UPDATE: UK Police Investigates Boris Johnson over lockdown parties in Downing Street
UPDATE: The Metropolitan Police Service is investigating a number of events at Downing Street and Whitehall for potential breaches of Covid restrictions.
Commissioner Cressida Dick says the move follows information from the Cabinet Office inquiry team and her officers' assessment.
Addressing MPs, Boris Johnson says he welcomes the police investigation, saying it will bring clarity on the issue.
A No 10 spokesman says the PM does not believe he has broken any laws. Parts of senior civil servant Sue Gray's report into parties will be delayed while the Met investigates.
It comes as a June 2020 birthday gathering for the PM – first reported by ITV News – puts fresh pressure on Johnson. Downing Street does not dispute it took place but says the PM was there for less than 10 minutes.
News.Band has reported that Boris Johnson faces renewed anger from MPs and bereaved families after the disclosure his then fiancee threw him a surprise lockdown birthday party in 2020.
London Met police commissioner says 'a number of events' at No 10 and Whitehall now being investigated under lockdown laws.
Dick says she is going to explain her general approach. They have followed the four E's: explain the rules, engage with people, [encourage people to obey] and only enforce as a last resort.
She says most people responded very well to police engagement.
The police have "finite resources", she says. This was a particular problem during the pandemic when people fell ill.
Normally it would not be a "proportionate" use of officers' time investigating offences committed in the past. These are summary offences that attract fines.
She says it was better to focus on serious crime.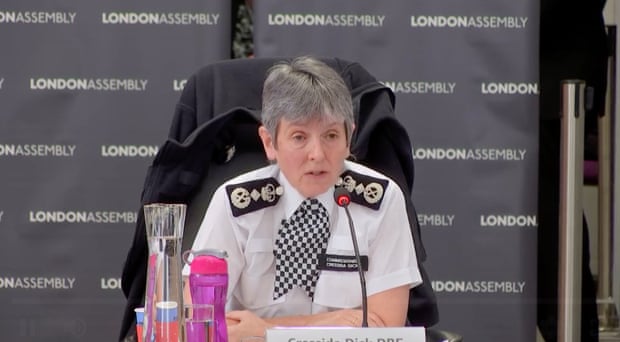 The police have guidelines. And sometimes the police have investigated retrospectively.
Some police officers were investigated after the fact for breaking Covid rules. And some high-profile people were investigated too.
She says these cases were "the most serious and flagrant" kind of breach.
Four conditions had to apply. There had to be evidence, she says.
She says those involved had to know they were committing an offence, the cases had to risk undermining the law, and there had to be little ambiguity about a reasonable defence.
She says the Met has a good relationship with the Cabinet Office. On the basis of what they have said, and on the basis of an assessment by the police, she says she can now confirm that the Met is investigating "a number of events that took place at Downing Street and Whitehall in the last two years in relation to potential breaches of Covid-19 regulations".
She says other cases are not being investigated because they do not meet the threshold for criminal investigation.
The police will not give a running commentary, she says.
Dick says there have been various reports in the media. She will not say which ones are being investigated and which are not.
Dick says she is "confident" in the inquiry the Cabinet Office has carried out into these events. She says the Met is used to working with the police.
Gordon Brown, the former Labour prime minister, told ITV's Good Morning Britain that Boris Johnson's failure to follow lockdown rules was a moral issue. He explained:
I could not go to the funeral of a very close relative last year at the same time. I couldn't visit a dying friend in hospital, and there are thousands and thousands of families who were in that position. Therefore, this is not a political issue. This is a moral issue about whether the standards you ask people to follow are standards you are prepared to follow yourself.
Brown was on the programme to talk about his call for the international community to find billions of pounds to prevent starvation in Afghanistan.
News.band has published a full list of alleged government Covid rule-busting 'parties'. From 'cheese and wine' in Downing Street to 'boozy' leaving dos – the number of suspect events grows to 15