Nobel Laureate, Prof. Wole Soyinka, former governor of Anambra State, Mr Peter Obi, political economy and management expert, Mr Patrick Utomi were among the speakers at the event dubbed "Ripples Dialogue" and titled "Can Nigeria Be Fixed".
Other guests are the presidential spokesman to the administration of former President Goodluck Jonathan, Dr. Reuben Abati, Dr. Abiola Akiyode, and a host of others,
The event was held on Thursday, March 15, at The Wheatbaker Hotel, Ikoyi, Lagos, and organised by Ripples Nigeria.
In his speech, Prof. Soyinka gave a 45 minutes speech, well laced with practical examples, humour and both historical and contemporary lessons that cut across all spheres of our national life.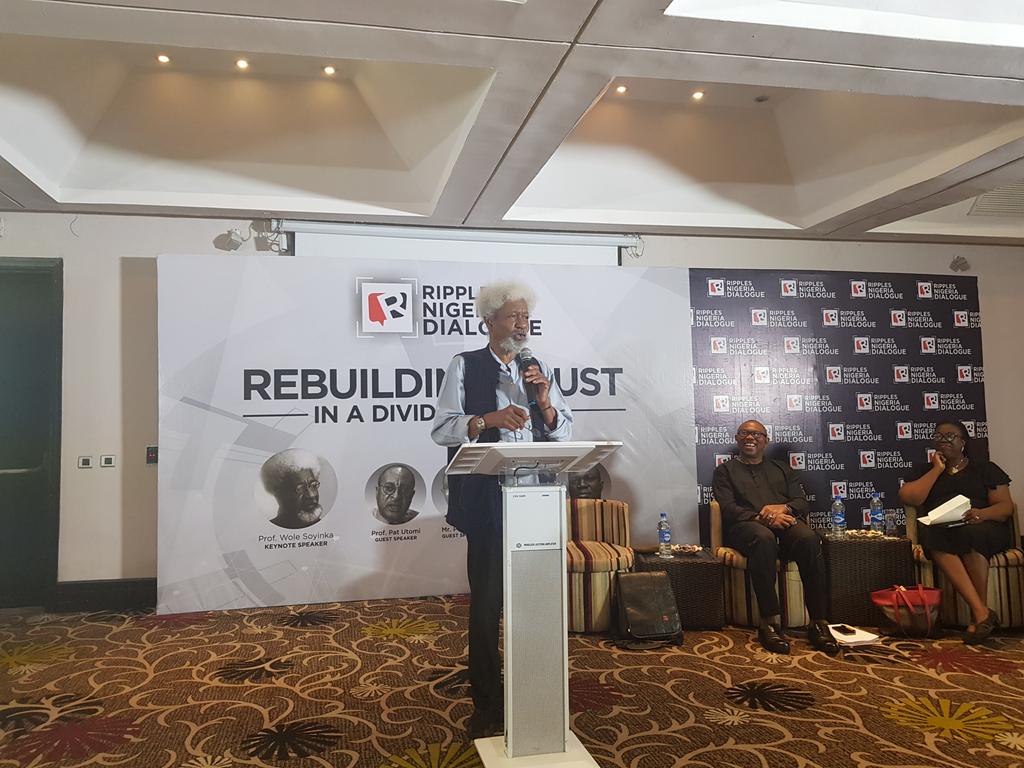 The learned professor did not spare various governments, both past and present while throwing jibes.
To former President Jonathan, he said that it took the ex-President 3weeks to admits that the Chibok girls were adopted.
He then condemned the Minister of defence for his comment on why communities blocked grazing routes and expect herdsmen not to react.
He remarked that it is shameful that such a minister is still in President Muhammadu Buhari's government.
On the humiliation of Nigerians by military personnels across the country, he reminded of the ex-President Olusegun Obasanjo administration, saying:
"We stood up to Obasanjo and challenged him to end humiliation of Nigerians by military personnel". He lamented that unfortunately these acts are still prevalent today.
Soyinka also called on Nigerians to reject the bill being proposed by the House of Representatives on 'Hate speech' which will bear a death sentence tag if signed into law.
Speaking on the "nefarious activities" of the Fulani herdsmen killing spree nationwide, he said:
"Nigeria is not the first country to experience natural disaster , and this is not an excuse to take guns to destabilise other peace loving people in their communities."
He then blasted Nigerians, both home and abroad, for negligence of existing laws of their host communities, saying that "Nigerians contaminate anything they touch and violate every laws they come across.
Another fiery speaker Mr Peter Obi took his swipe majorly on politicians and their ineptitude at managing the state's resources.
He said:
"Politicians campaign based on problems that are on ground, so why do they get into office and starts complaining about the problems they met, what did they expect to meet?
"What did they promise to do during the campaign?"
Throwing a jibe at the unbridled nepotistic attitude at the President Buhari government, he stressed:
"The reason we have corruption in governance is because nepotism rules in the corridors of power."
A resonating round of applause arose from the crowd for Peter Obi when he said that "Governance is indeed common sense, not rocket science.
"Our Problems is not the Leadership but the followership because we have handed the issue of governance to Comedians," Mr Obi remarked.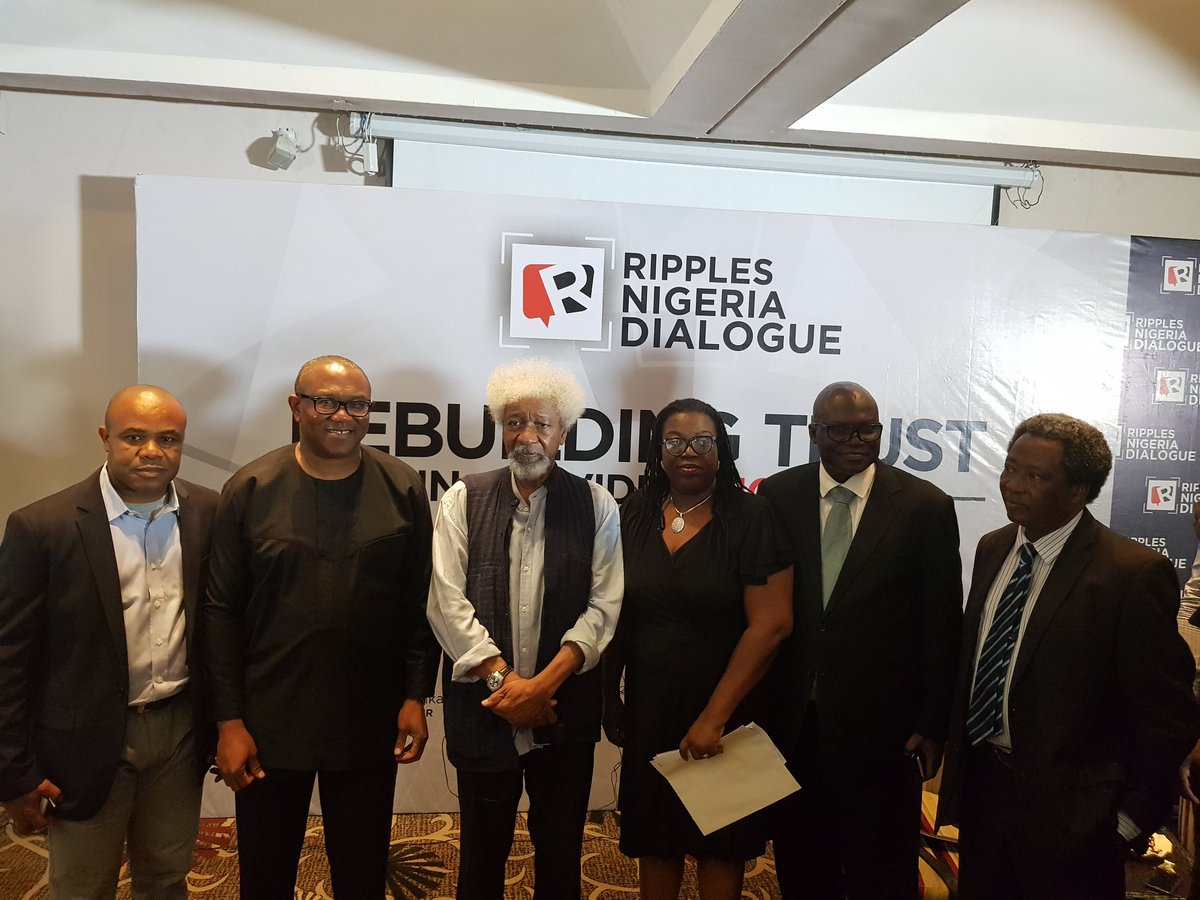 On his part, Prof. Pat Utomi blamed the fallen quality of leadership and other vices on the media, saying;
"The media was instrumental in achieving Independence but today has lost a lot of its relevance.
"The media has to do a lot of soul searching to recover its relevance."
Other speakers also took turns to expound on ways that Nigeria could be fixed.
—
© Copyright 2017 www.elombah.com. Send eyewitness accounts/ reports/ articles  to publisher@elombah.com; follow us on twitter @ElombahNews; like our Facebook page: ElombahNews; join us on WhatsApp HERE
Would you like to be receiving ALL ElombahNews links 'On The Go' on WhatsApp Or Telegram?  If yes, kindly provide us your Telephone number via publisher@elombah.com or sms/inbox +2349052920078 and you are ready to go!
For adverts & inquiries, call +447460770987, +2349052920078