Southeast CSOs Publishes Best & Worst Office Holders In SE Nigeria [2]
Governance & Leadership Failure In Southeast Nigeria
Having effectively highlighted the conventional, international and constitutional parameters of good governance and charismatic leadership above, in addition to statistical breakdown of untamed squander-mania and monumental governance failure in Nigeria's public sector including Southeast Zone, we are particularly deeply saddened over the near total, if not total collapse of good governance and visionary leadership in the Southeast Zone.
This explains why we chose to organize this media briefing and interaction with Gentlemen and Ladies of the Media. The briefing and interaction are in furtherance of the constitutional duties of the media and rights CSOs as contained in Sections 22 (role of the mass media in the promotion of good governance), 24 (duty of the citizenry) and 39 (freedom of expression) of Nigeria's 1999 Constitution (as amended).
It is therefore no longer news and new that good governance and charismatic leadership have eluded the Southeast Zone. The Zone is now shackled by transactional governance and chronic bad leadership.
As a matter of fact, corridors of power in the Southeast are now majorly under the grip of The Anarchists.  Art of governance has become transaction of businesses in the corridors of power and shameless display of political rascality and immorality.
Many, if not most of the legislators in the Geopolitical Zone are no longer legislating and checkmating the executives for good governance and public good, but transacting by cornering public funds into moveable and immoveable investments.
Use of public funds for public good is now strange and has become a thing of the past in the Zone. Many, if not most State and Federal House legislators in the Southeast Zone now operate or own private revenue windows and taskforces.
It is so sad, shocking and disappointing that some university professors and their likes in social settings have now become shoe shiners, dusters of files, carriers of bags, personal assistants and private secretaries to these anarchists and renegades masquerading as executive and legislative public office holders in Nigeria particularly in the Southeast Geopolitical Zone.
We therefore have strongly resolved to revisit and review critically; social, economic, political and security and safety developments in Southeast Zone in the past years including 2017. The events being revisited and reviewed are public interest oriented.
The roles played by their key players are evaluated and rated as the best and the worst in the Southeast (1980s – 2017);  involving the serving and former executive or public governance, social services and security administrators in the Zone in the past years including 2017.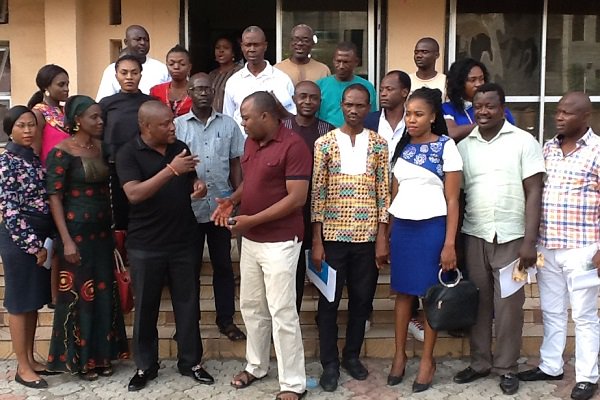 IDENTIFICATION AND CELEBRATION OF FEW BEST HANDS IN THE SOUTHEAST
Those with outstanding performances in ensuring provision and delivery of human security (i.e. personal security, food security, health security, environmental security, economic security, community security and political security) as well as public decency and accountability in governance to the People of Southeast in part or in whole; are rated and celebrated as the best personalities of the Southeast Zone (1980s -2017).
The public officers so named or recognized are the serving or retired or living or dead (posthumous) public office holders from the Zone; who are serving or had served in executive public offices.
Their recognition and celebration have become compelling following the sorry state of governance and its peripherals in the Zone.
In progressive and prospering social climes, achievers and charismatic leaders are celebrated and worshipped as religion and legends; but in Nigeria of today especially under Buhari's Presidency, such leaders are not only rarely found, but also mocked and hated when found especially by members of the political class or political elites.
It is so bad that decency and outstanding achievement no longer have a place in Nigeria's political space. Failures are beatified and canonized while achievements and their achievers are demonized and marked for destruction.
It is also no longer hidden that membership of political class in the Zone is now dominated and held by jugulars by the black sheep of the society; thereby making good governance and charismatic leadership attainment an act of impossibility.
It is so bad that any conscientious political player that operates in the opposite direction while in office (i.e. provides good governance and quality leadership) instantly draws the untamed anger of the immoral members of the political class and marked for total destruction. He or she is further seen and treated as a leper or a deviant.
A clear case in point is the attacks and destructive conspiracies against former Governor Peter Obi of Anambra State by members of the political class; just because he insisted on using public funds for public good during his days as the democratically elected Governor of Anambra State (2006-2014).
His remarkable transformation of the State has, till date, not gone down well with the political elites who attacked him for "making them hungry" during his tenure; instead of allowing them access to public funds to loot and plunder at the teething expense of the People of the State in particular and the Southeast in general.
Obi's achievements in office are second to none since the days of late Dede Sam Mbakwe in old Imo State (present Imo and Abia State and a part of Ebonyi State) and Chief Jim Nwobodo in old Anambra State (present Enugu and Anambra States and larger part of Ebonyi State).
At the level of Intersociety and SBCHROs, therefore, we must at all times insist on celebrating and immortalizing the achievers of our time especially in the Southeast Zone. To this effect, the trio of late Chief Sam Onunaka Mbakwe (from Avutu-Obowo, Imo State), Chief Jim Ifeanyichukwu Nwobodo (Nkanu, Enugu State) and Chief Peter Gregory Onwubuashi Obi (Agulu, Anambra State) must at all times make the hall of fame as the great achievers of our time during their days as democratically elected Governors of old Imo and Anambra and present Anambra States.
If it is to be in other social climes, these great leaders and achievers (noted are minuses in Chief Jim Nwobodo's present reputation and integrity) will eternally be celebrated and immortalized. University faculties, research centers, care or charity foundations and public monuments will be named after them. Their achievements in office would also have been theorized and developed into courses of study in the tertiary institutions.
Those of them still living would have been made visiting or guest lecturers and professors in some reputable universities particularly those in their localities. They would also have been invited to chair or sit in the boards of regional and int'l multibillion dollar companies and highly respected and influential foundations and bodies.
BORROWING FROM MO IBRAHIM PRIZE FOR ACHIEVEMENT IN AFRICAN LEADERSHIP
This position of ours, therefore, is partly borrowed from the Mo Ibrahim Prize for Achievement in African Leadership, created in 2007 by Mo Ibrahim Foundation (MIF) which awards a $5 million initial payment, and a $200,000 annual payment for life to African heads of state who deliver security, health, education and economic development to their constituents and democratically transfer power to their successors; especially before or after three years of leaving office.
Mr. Mo Ibrahim is a Sudanese-British billionaire and former owner of the Celtel Communications; who sold it in 2005 to set up Mo Ibrahim Foundation and Prize for Achievement in African Leadership.
Chaired by Dr. Salim Ahmed Salim-a former Secretary General of OAU (now AU), the Award had produced only six Winners or Laureates since then; namely: President Joaquim Alberto Chisano of Mozambique (2007), President Nelson Rolihlahla Mandela of South Africa (honorary-2007), President Festus Gontebanye Mogae of Botswana (2008), President Pedro De Verona Rodrigues Pires of Cape Verde (2011), President Hifikepunge Pohamba of Namibia (2014) and the immediate past first female President of Liberia, Madam Ellen Johnson-Sirleaf (2017).
In 2009, 2010, 2012, 2013, 2015 and 2016, the MIF Prize Committee chaired by Dr. Salim Ahmed Salim of Tanzania, after in-depth review, uncompromisingly, did not find a winner.
As leaders of rights CSOs and unrivalled conscience of our modern society, we must insist on good governance and remarkable leadership in the Southeast Zone.
We must at all times identify, recognize, celebrate and immortalize those with accomplished records in leadership especially the holders of executive offices.
When men and women of evil-will strive to demonize and destroy the achievers of our time, we must rise with one voice and offer them encouragement, protection, celebration and immortalization.
REMEMBERING DETAINED & PERSECUTED PRO BIAFRA ACTIVISTS
Noted too, is the need to recognize, celebrate and immortalize the slain and persecuted citizens of the Southeast Zone in 2017.
The persecuted include Citizens Benjamin Mmadubugwu (detained since July 2015 over allegation of unlawful possession of un-prohibited firearms or Pump Action or gaming guns, as well as conspiracy to commit treasonable felony), and Dave Nwawuisi (detained since October 2015 over allegation of illegal importation of goods and conspiracy to commit treasonable felony).
Citizen Chidiebere Onwudiwe was also arrested and detained since June 2016 over allegation of illegal importation of goods and conspiracy to commit treasonable felony and Bright Chimezie (detained since September 2016 till date by SSS over allegation of conspiracy to commit treasonable felony).
Over 82 others including minors and married women are held at Port Harcourt Maximum Prisons (15 detainees), Ahoada Prisons (20 detainees) and Degema Prisons (10 detainees) all in Rivers State.
Others are one detainee with a severe eye injury at Amawbia Prisons in Anambra State; 33 detainees including minors and one Ms Ada Nnude (a female detainee) at Aba Prisons in Aba State as well as 4 detainees at Enugu Prisons.
We also have it on good authority that scores have disappeared or are held in secret detention facilities particularly manned by secret and plain police formations in Nigeria; with their identities shrouded in secrecy till date.
These persecuted detainees are detained without formal trial or dumped at pre-trial stages by the Buhari Administration since 2015, 2016 and 2017 over offenses that are not more five years prison term on court conviction.
The Buhari Administration in a panicky move to truncate and pervert local and int'l justice and shield the perpetrators turned around and retroactively tagged them "terrorists" in September 2017.
The detainees are unarmed and defenseless citizens violently arrested for their involvement in nonviolent pro Biafra agitations in Southeast and South-south Nigeria between 2015 and 2017.
REMEMBERING SLAIN PRO IGBO-BIAFRA ACTIVISTS
Remembered are slain unarmed and defenseless citizens of Southeast Zone in their productive age; with their numbers estimated at not less than 100. This is in addition to over 270 others earlier shot and killed between 30th August 2015 and 20th January 2017.
The estimated 100 slain Igbo citizens were shot at close range and killed vicariously by the Chief of Army Staff, Lt Gen Tukur Yusuf Buratai and directly by men and officers of the Nigerian Army during the bloody or violent military invasion of Abia State, between 12th and 14th September 2017.
Most, if not all the killings took place in Aba, Isi-ala Ngwa and Afara-Ukwu, near Umuahia, all in Abia State. The leadership of IPOB (Indigenous People of Biafra) said: "The Nigerian Army killed 305 of our members in Abia State in two days on 12th and 14th September 2017".
Scores of others were also shot and maimed. The Nigerian security forces led by the Army had earlier between 30th August 2015 and 20th January 2017 shot at close range and killed not less than 270 unarmed and defenseless citizens of Southeast Zone and terminally wounded over 370 others.
Most of those slain citizens of the Southeast also constitute bulk of the victims of disappearances across the country; perpetrated by the Nigerian Army, SSS and SARS operatives.
On 1st June 2016, not less than 120 of them were criminally buried inside one of the two military cemeteries located inside Onitsha Military Cantonment under civilian and authority supervision of a serving Commissioner in the present Government of Anambra State.
They were shot and killed on 29th and 30th May 2016 at Nkpor and Onitsha in Anambra State. Their remains were lumped in about 15 shallow graves and possibly decimated with raw acid substances to erase evidential traces.
Not less than 30 others were shot and killed at Asaba spillover military shootings and killings on the same 30th May 2016; with many later buried around Asaba Air Port Road on 26th June 2016 after they were removed from the Asaba Federal Medical Center morgue.
Remembered, too, are the wounded victims of State violence, the physically challenged and the destitute in the Southeast Zone.
It must be remembered that the very reason why democracy or limited government was founded was to cater at all times for the welfare of the named three citizen categories and the rest of the downtrodden, but in Nigeria especially in the Southeast Zone, they are totally neglected and abandoned by the Government and its deviant operators especially the Governors.
There are over 400 wounded victims of State violence in Southeast Nigeria. Scores of them have died from their gunshot wounds while several others are crippled or disabled for life.
Most of them were shot and terminally wounded by the Nigerian security forces especially the Nigerian Army between 30th August 2015 and 14th September 2017 in different parts of Southeast; and Delta, Rivers, Akwa Ibom and Cross Rivers States all in South-south Nigeria.
Nigerian Government not only refused to treat them but totally abandoned them without adequate compensations till date.
There are tens of thousands of non-mercantilist Street destitute and physically challenged citizens with hundreds of thousands of their dependents especially children roaming about major streets in the Southeast Zone.
According to Intersociety, most of these abandoned children constitute the bulk of children of the street (under-age beggars and hawkers) and children in the street (permanently live or wallow in the streets outside or without their families).
Most of these children or the Street under-age population in the Southeast have dropped out of school or not gone to school at all; except roaming about the streets of the Southeast.
Striking among these destitute are the destitute of Uga Junction pedestrian Bridge at Bridgehead end of the Asaba-Onitsha Expressway in Onitsha. The social welfare of the physically challenged persons and the destitute in the Southeast is nothing to write home about.
FAILED PUBLIC UTILITIES PROVIDERS IN SOUTHEAST
Reviewed in the past years including 2017 are criminal and failed roles of some persons and corporate bodies entrusted with the responsibilities of provision, delivery and maintenance of social services including public utilities in the Southeast Zone.
One of such bodies is the Enugu Electricity Distribution Company (EEDC); mandated by the Federal Government via an operating license to provide quality and steady electricity to the people and properties in the Southeast Zone.
The EEDC is one of the makers of our hall of shame and has emerged the worst social services or public utilities provider in the Southeast Zone in the periods under review including 2017.
—
Would you like to be receiving ALL Elombah.com news links 'On The Go' on WhatsApp Or Telegram?  If yes, please provide us your Telephone number via publisher@elombah.com or sms/inbox +2349052920078 and you are ready to go!
© Copyright 2017 www.elombah.com; unless otherwise indicated, all images are courtesy of Twitter; send eyewitness accounts/reports/articles to publisher@elombah.com; follow us on twitter @Elombah; like our Facebook page: Elombah.com; join us on WhatsApp HERE
For adverts & inquiries, call +447460770987, +2349052920078