Marcel Ngogbehei Receives Comely Nation Heroes Award For Leadership Excellence
Mr Marcel Ngogbehei has been awarded the Comely Nation Heroes Award 2018 For Excellence in Leadership and Nation Building for his exceptional achievements and for his service to the country [Nigeria].
His other attributes as outlined in the award are his contribution to nation-building, dedication to duty, professionalism and patriotism.
The event took place on Saturday, April 14, 2018, at the 3J's Hotel, Utako, Abuja.
Other award recipient at the event includes veteran Nollywood actor, Bruno Iwuoha et al.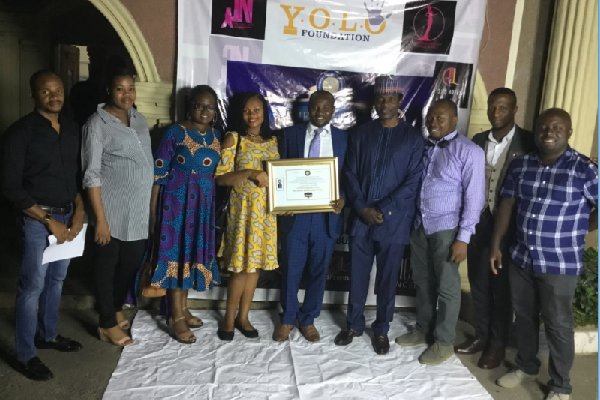 ABOUT MARCEL NGOGBEHEI
Mr Marcel Ngogbehei can best be described as a humanist, who has two career progression path.
The First Path is his professional life.
In that Life, Marcel Ngogbehei is a resourceful ICT Professional, who has acquired a progressive Technical, Managerial and People Management Skills over time.
He has the ability to build strong relationships with stakeholders. He has been successful in different Management/Leadership roles especially those that demand strategic planning, due diligence, great attention to details and strong technical/business skills.
Marcelo, as fondly called by his colleagues, has over 10 years of progressive IT Experience ranging from Data Centre Operations (having managed the first state of the art Government Data Center in Abuja), Satellite Communications Engineering, Information System Networks, Cyber Security and recently Business and Applications Architecture.
Marcel was the Technical operations Manager that delivered the Federal Government Electronic Document Management System for SGF and the Federal Executive Council in 2014.
He was the lead Information Security Personnel for the FGN Integrated Payroll Payment Management System (IPPIS).
He was the Technical Design lead for the Government Millennium Development Goals Automation System and a whole lot of project.
In all of this, he has had 100% project delivery success. Not a single project failed under his watch.
In his Humanist and Volunteer Capacity, Marcel helps to set directions on issues that affect humanity around him.
He has a very strong skills on Strategic thinking and diplomatic negotiations right from his school days.
He was the pioneer and founding President, Institute of Electrical Electronics Engineers (IEEE) Lagos State University Student Branch.
IEEE is a leading world-wide, US based International Organization with over 500,000 members across the globe, as well as the Founding General Secretary of Electronics and Computer Engineering Students Society.
He is the President, GiveBack2Humanity Initiative, a privately funded initiative that is aimed at improving peoples standard of living, GiveBack2Humanity organises leadership training workshops, mentorship programmes for the younger generation and Medical Education and consultation programmes with volunteer medical personnels.
Marcel is also the Vice President, Board of Trustee – Oganiru Ala-Anyi Initiative – an IGBO Social Cultural Organization, Director of Citizens Parliament and has played key leadership and strategic role in other civil society organizations.
Marcel has BSc. in Electronics/Computer Engineering from Lagos State University and Credential Of Readiness Certificate from Harvard Business School. He has also acquired numerous IT related Professional Certifications.