London In Knife Carnage Frenzy, 6 Youths Stabbed In 4 Separate Attacks
Six teenagers were stabbed within 90 minutes of each other tonight in four separate knife attacks across the capital in what was termed "London knife carnage".
As a result of the carnage, three were hospitalised after first incident in Mile End, East London just after 6pm.
An hour later, two boys attacked near East India Dock and Ealing Broadway. A 13-year-old was 'seriously injured' after fourth attack in Newham.
London's crime rate is at 7-year high with 55 murders since January amid a surge in violent crime, reports Dailymail.
The attacks – which police believe are not linked – come just hours after a man was knifed down this afternoon in Wandsworth.
The first incident this evening happened in Mile End, east London, just after 6pm, when three teenagers were hospitalised – two of them with serious injuries – after a knife attack took place in front of horrified witnesses.
The less-severely injured youth was later discharged and arrested on suspicion of attempted murder.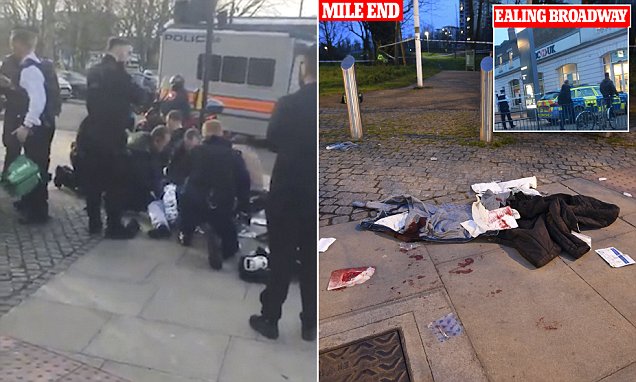 Less than an hour later, a teenage boy was stabbed near East India Dock, two miles away.
By 7pm, a fifth victim, described as a young teenage boy, was knifed outside HSBC bank on Ealing Broadway in West London.
Minutes later across the city in Newham, a 13-year-old boy was left seriously injured after he was reportedly set upon by a gang of youths.
Police say three teenage boys have been arrested on suspicion of GBH with intent.
London is currently facing its highest violent crime levels since 2010, with Scotland Yard investigating 55 murders since January.
Escalating violence has been worst in London, with 13 people killed within two weeks last month.
Shocking footage filmed tonight by a witness in Mile End shows paramedics battling to treat one injured party, who laid beneath a foil blanket as police officers appeared to restrain another person.
One teenager was treated with minor injuries but the two others – described as 15-year-old boys – were rushed to hospital with serious injuries.
A spokesman for the force said one male was arrested on suspicion of attempted murder.
Witness Jack Hawke, 33, who lives further down the street, said he heard 'yelling' and went to his window, where he saw three boys, one on a bicycle, with their faces covered.
Another, Jack Hobbs, 30, walked past what appeared to be the same group on Grove Road and said:
'They were all wearing dark clothes with their hoodies sort of fastened up at the top so their heads were completely covered.
In Ealing a 55-year-old retailer who witnessed the aftermath of the suspected stabbing in Ealing Broadway told MailOnline:
'I was cycling home and I saw lots of police and ambulance and there were a load of youths hanging around.
'I asked them, 'It's not another stabbing, is it?' and they told me, 'Yeah, it is'.
He said: 'There was a young black boy – probably only a teenager – being stretchered away with an oxygen mask on.
He said: 'I really hope he pulls through, but he really didn't look good.
'I was just coming home from work, but it's just become normal now – I see it all the time.'
The man, who himself was a victim of gang crime when he was pushed into Grand Union Canal last year by youths, said London had become a 'warzone'.
'I wish I could afford to move out of London. In my day if someone said something about you, you'd have a fist fight and shake hands afterwards.
'Now these kids are shooting and stabbing people – it's gone too far.
'People need to take responsibility. And Sadiq Khan. He's the worst Mayor London's ever had.'
Horrified witnesses took to Twitter after witnessing the stabbing in east London.
One person said: 'Just walked past an incident on the corner of Roman Road near Mile End. Young boy, looked to be no younger than 15.'
And another wrote: 'There's been a stabbing at roman road, just walked past the horrific sight.
'This is a very friendly neighbourhood yet something as terrible as this happened, stay vigilant and cautious when you're out and about.'
While one woman said: 'Walked past an incident on Roman Road. These are just kids. They have their whole lives ahead of them.'
A spokesman for London Ambulance Service said:
'We sent multiple resources to the scene including ambulance crews, an incident response officer and an advanced paramedic, with the first of our medics arriving in just over six minutes.
'London's Air Ambulance was also dispatched.
'We treated three patients at the scene, and have taken two to hospital as a priority. We remain at the scene.'
Both incidents come as the city's violent crime rate has reached a seven year high. Since the start of 2018, there have been 55 murders in London alone.
Stabbings in England and Wales are at their highest levels since 2010/11 and the escalating violence has been worst in London, with 13 people killed within two weeks last month.
On Tuesday, 16-year-old Amaan Shakoor became the youngest murder victim in London so far this year after he was shot dead on Monday in Walthamstow.
His death came after that of Tanesha Melbourne, 17, who was gunned down around 30 minutes earlier just three miles away in Tottenham. Both were apparently casualties of gang violence.
Two men including teenager Israel Ogunsola died in another night of bloodshed last night.