Inibehe Effiong knocks Aisha Buhari for abducting, torturing citizen in Aso Villa
Human rights and public interest lawyer, Barrister Inibehe Effiong, has on Wednesday, knocked Mrs. Aisha Buhari, the wife of President Muhammadu Buhari, for abducting and torturing a citizen, Aminu Mohammed, in the Presidential Villa in Abuja.
Taking to his Twitter handle in a series of tweets, Barrister Effiong said:
"A Nigerian citizen was illegally abducted and forcefully taken to the presidential villa on the order of the President's wife.
"The victim was tortured in the presence of the First Lady. It is also reported that the First Lady took part in the torture. This is more than a scandal.
This is evil and a gross abuse of power. How can the country be moving on as if this is some fiction? It shouldn't be tolerated.
"If the reports are true, Aisha Buhari and the officers involved in the barbaric acts against Mohammed should be arrested and prosecuted. It's criminal.
"No serious country on earth that cares about human rights will let such detestable acts of evil to go unaddressed.
"This is happening under the watchful eyes of the same President who claimed he was going to bring about change.
"These blatant violations are taking place under the nose of the same Buhari who promised to abolish the Office of the First Lady; a promise he hasn't fulfilled just like all his promises.
"History will remember Buhari and his family as oppressors.
"The other time, a citizen was arrested for innocently buying and using a SIM card previously used by Buhari's daughter.
"Buhari cried and begged Nigerians on four occasions to be President. He was eventually given the opportunity in 2015. He decided to inflict pain and hardship.
"Aminu Mohammed is entitled to the dignity of his person under Section 34 of the Constitution.
"He is guaranteed the right to liberty under Section 35. His right to freedom of expression is also guaranteed by Section 39.
"The Anti-Torture, 2017 has criminalized torture of anyone.
Inibehe Effiong prides himself as an "Enemy of Oppressors" and "committed to ending corruption and injustice".
Meanwhile, see a cartoon below of Aisha Buhari squeezing the life out of Aminu Mohammed. Read more.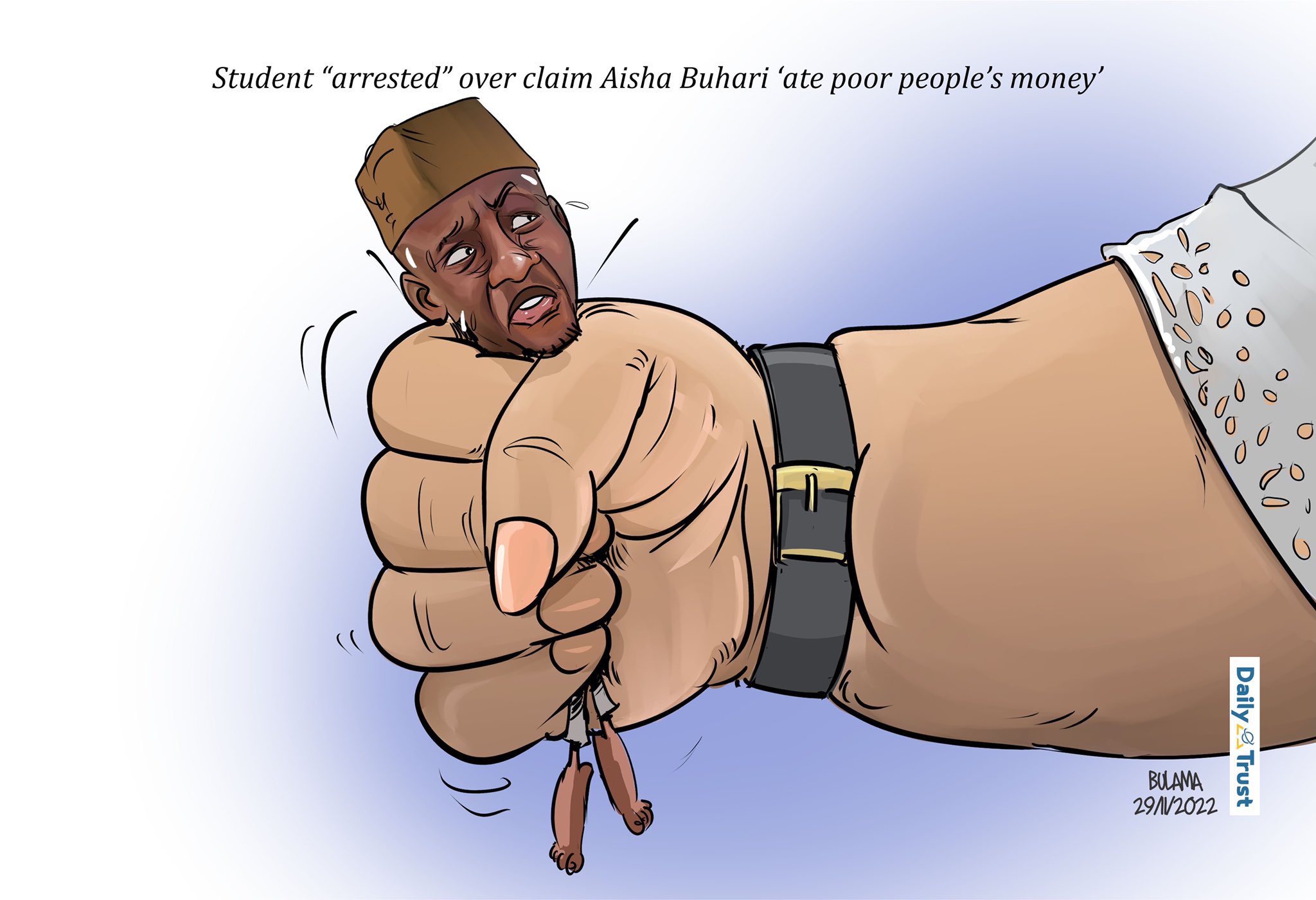 —
(If you would like to receive 
CURRENT NEWS
 updates from 
News Band
 on WhatsApp, 
join here
; for Telegram, 
join here
. If the group is full, kindly send WhatsApp/Telegram message to 
+234 905 038 2526
. You can also send eyewitness accounts/reports/articles to 
elstimmy@gmail.com
. F
ollow us on twitter @
News Band
; like our Facebook page: 
News Band
.)