Did the Governor of Ebonyi State, Engr. David Nweze Umahi, became billionaire at age 25?
The question had popped up after the Chairman of the South East Governor's forum made the unverified claim on live television recently while attacking his Rivers State counterpart, Governor Nyesom Wike.
Trouble started when Governor Wike, made remarks captured in a statement entitled "Wike to Umahi: return PDP's mandate back to us", with a rider "Demands disciplinary action against deputy governor of Edo State", dated March 12, and signed by his Special Assistant on Media, Kelvin Ebiri.
Therein, Governor Wike urged the Ebonyi State Governor, to return the mandate he got on the platform of the Peoples Democratic party (PDP).
He made the demand in an event in Port Harcourt after a Federal Court sacked Umahi from office for defecting to the ruling All Progressives Congress (APC).
He said it was rather unfortunate that instead of seeking appeal to the judgment of the court that had sacked him, Governor Umahi made a reckless statement attacking the judge.
His words: "Look at a governor making a reckless statement simply because a judge made a judgement according to his own opinion, which you are entitled to appeal up to Supreme Court.
"You have called somebody a thief in the market and you're saying I'm sorry, it is late. That your sorry, we the members of the public, we don't take it."
Wike said this was the first in Nigeria's political history that defection of a governor to another party was contested in court and hailed PDP's decision to challenge the defection of the governor and others elected on its platform.
"That is one of the problems of party leadership. People cannot come out and take the bull by the horns.
"So, Governor Umahi, be rest assured that PDP will continue this matter down to Supreme Court. We will continue with the matter," he noted.
He said it is no longer acceptable that someone will win an election and defect with the victory to another party for fear of escaping visitation of the Economic and Financial Crime Commission, (EFCC).
"You carry the votes of another party and join another party. Can you transfer votes? You work hard for somebody to win election and tomorrow , the person say I have defected.
"If you have defected, leave the seat if you know it's easy. And this will checkmate most of these political harlots who will never sit one place," he added.
Reacting, Governor Umahi counter-attacked Wike, saying he is putting on airs because he is packing people's funds.
Umahi also challenged Wike to a public debate while accusing him of packing public funds over claims that he and PDP were responsible for the court case that led to his (Umahi's) ouster.
The he made the unconscionable remarks that he, Umahi, "became a Billionaire at age 25".
Watch video of the speech below:
The statement has latched on the media-sphere with many analysts lambasting the Ebonyi Governor for such bogus and unfounded claim.
One such analyst stated on his social media handle:
"Ebonyi Governor Umahi, in trying to hitback at Wike, told us last night that himself Nweze Umahi became a Billionaire at age 25."
Arguing the irrationality of such unfounded claim, he went down memory lane to explain the impossibility of such.
He noted: "Dave Nweze Umahi was born in 1963 and graduated from the old ASUTECH, now ESUT in 1987 at the age of 24, served at age 25 in 1988 and became a Billionaire in same 1988.
"This was at a time when Ebonyi was  known as Abakaliki Senatorial Zone in old Anambra State.
"At a time when Babangida was military head of state of Nigeria.
"At a time when Dollar and Naira were running neck to neck in the forex market.
"At a time the budget of Federal government of Nigeria was N90 million plus, just less that N100 million.
At a time when Igbo Millionaires were conspicuous…
"Arthur Eze (Arthur 1000), Arthur Nzeribe, Ilodibe, Kalus, etc. and we never get to know of a certain billionaire Youth Corper called David Nweze Umahi?
"Was there an Igbo Billionaire at that time?" he asked in conclusion.
In the meantime, see Umahi's profile below: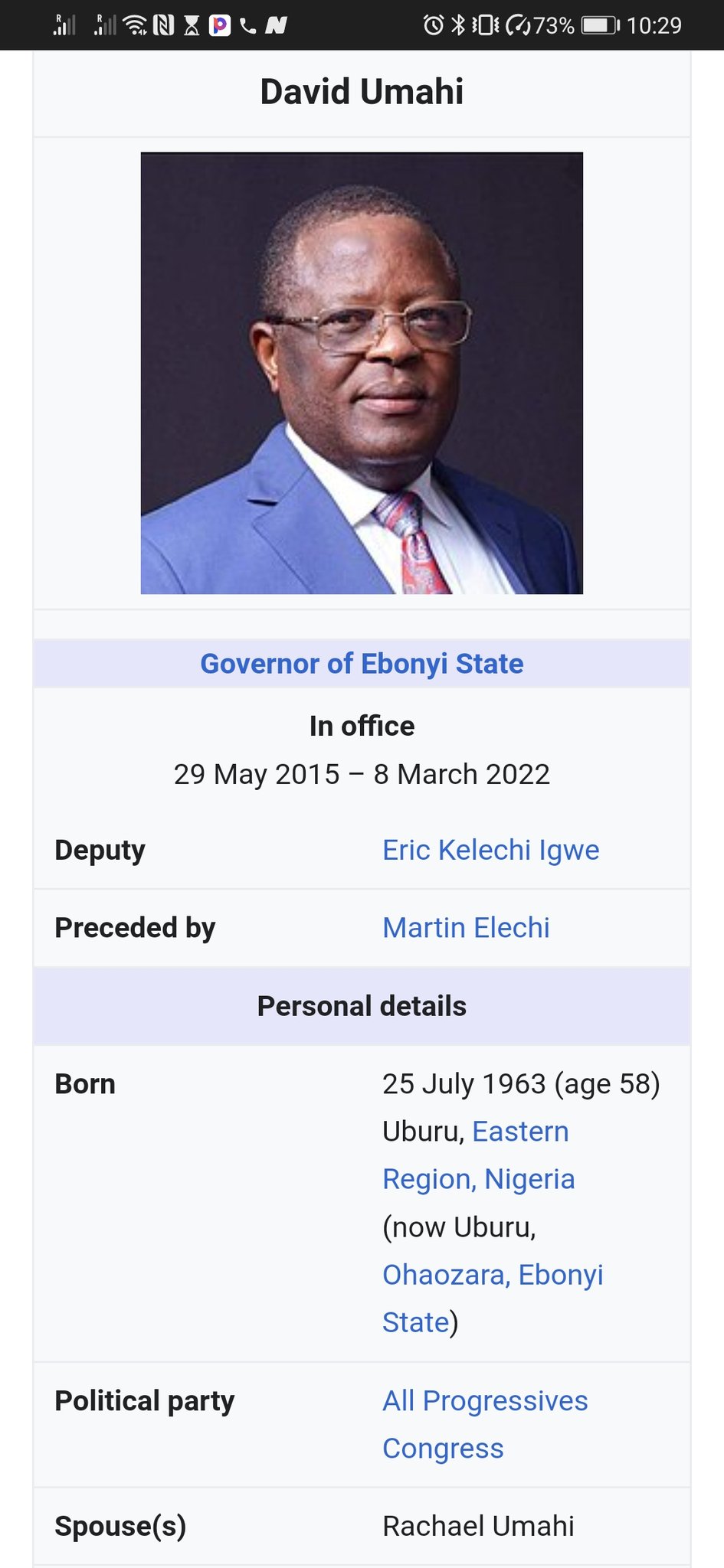 —
(If you will like to receive CURRENT NEWS updates from News Band on WhatsApp, join here; for Telegram, join here. If the group is full, send WhatsApp/Telegram message to +234 905 038 2526)