Chicago State University says Tinubu attended, graduated in 1979, creates more problems for Tinubu [Updated]
Chicago State University (CSU) has stated that President Bola Ahmed Tinubu attended the university and graduated in 1979 with a bachelor's degree.
The university made the disclosure in a statement dated September 14, 2023, to CBS News, one of America's most influential news networks.
In the statement CSU released to CBS News yesterday, wherein the university created more problems for Tinubu, it explained:
"As an educational institution, we are sometimes asked to provide information related to student records. Federal law known as FERPA (the Family Educational Rights and Privacy Act) protects the privacy of student records and limits what an institution can release.
"In August 2023, a request was made to the U.S. federal court for the university to provide information related to educational records concerning Bola Tinubu, the President of Nigeria, and a former CSU student.
"The university has confirmed Tinubu attended CSU and graduated in 1979 with a bachelor's degree. Federal law, however, prevents us from providing any further information without consent or unless allowed to do so via court order.
"CSU is confident in the veracity and integrity of our records regarding Tinubu's completion of graduation requirements and degree certificate.
"The university is not a party to the Nigerian legal proceedings that spurred this request, and a U.S. federal judge will determine whether the university will provide further requested information.
"Our response to the request for Tinubu's academic records has been entirely consistent with our practices, policies and federal law.
"We would respond in exactly the same manner for any request for any student information by a third party."
See the alleged admission letter to Chicago State University of "Bola Ahmed Tinubu" below: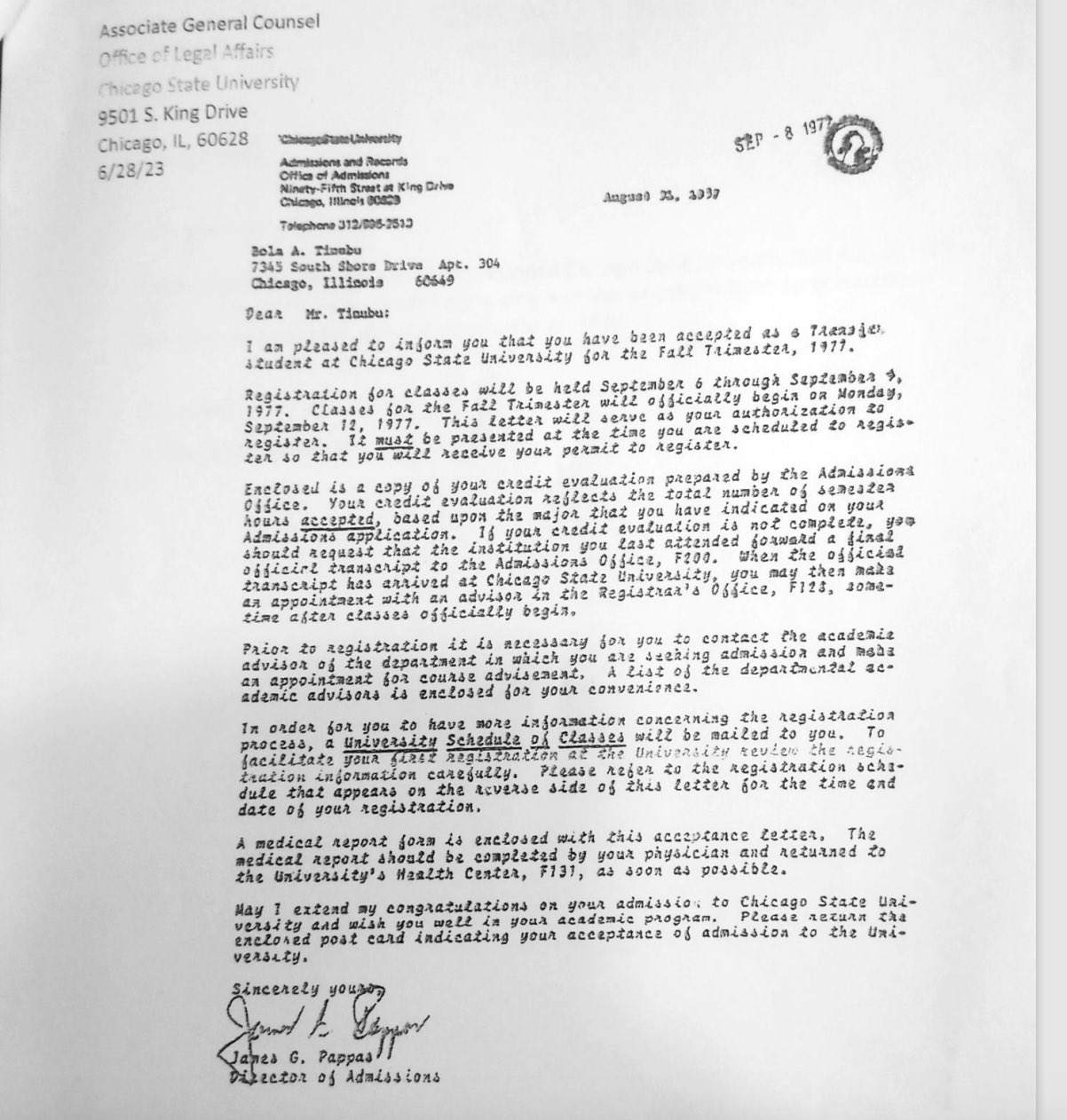 Chicago State University's lapses
The Chicago State University, however, failed to address the question of gender, as one of the documents that originated from its domain showed "F", indicating that "Bola Ahmed Tinubu" was a female and not a male.
Further, the statement failed to address the disparity of age as found in two different documents paraded by Tinubu.
It was immediately noted that the document paraded by the university has a different date of birth from the official date of birth claimed by Tinubu.
Whereas the document paraded by the university reads Tinubu's date of birth as March 29, 1954, Tinubu's official date of birth is March 29 1952.
The date of birth on the Chicago State University clearly differs from that Tinubu filled in one of the forms submitted to the Independent National Electoral Commission (INEC).
See a Certified True Copy (CTC) of the document below: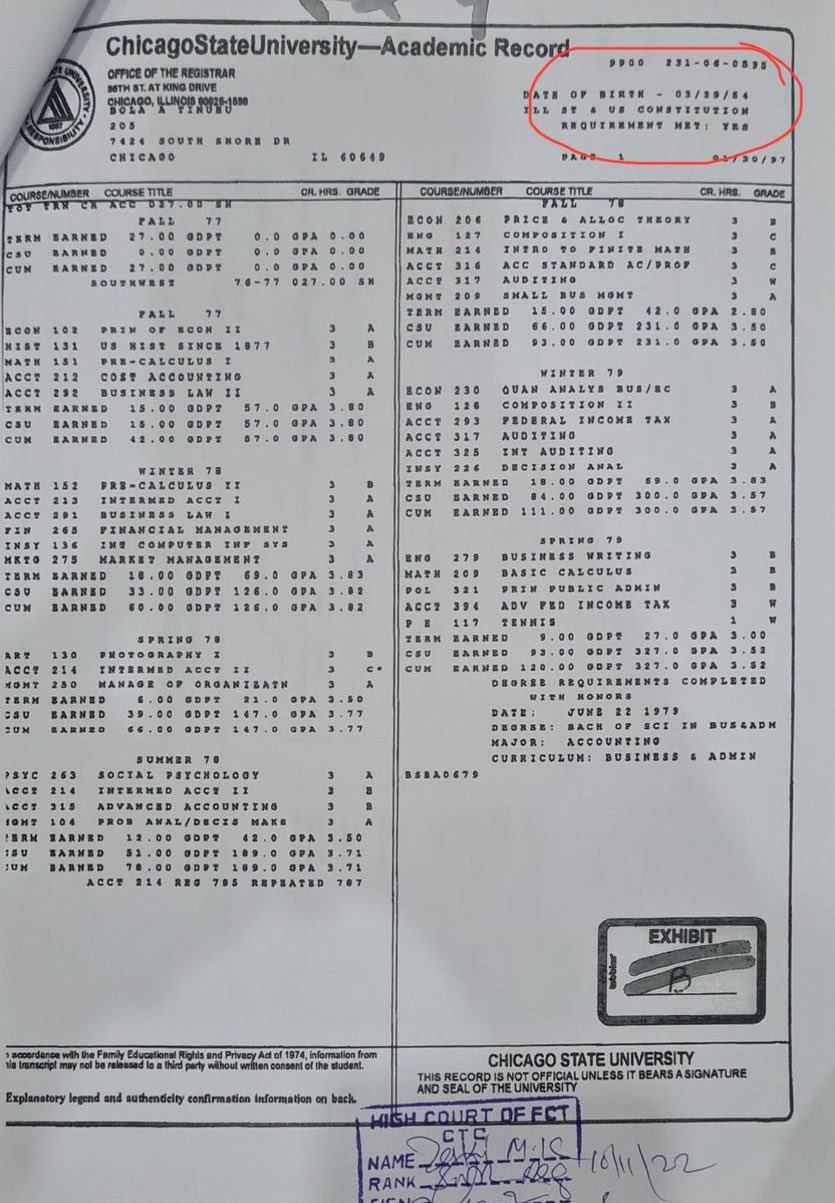 In the meantime, the Labour Party (LP) presidential candidate, Peter Gregory Obi, and the Peoples Democratic Party (PDP) presidential candidate, Atiku Abubakar, have respectively rejected the judgement issued by the Presidential Election Petition Court (PEPC) that affirmed the victory of Tinubu for the presidential election held on February 25, 2023.
— 
(Click here for News Band updates via WhatsApp, or Telegram. For eyewitness accounts/ reports/ articles, write to elstimmy@gmail.com. Follow us on Twitter or Facebook.)