19:45
Ododo wins Yahaya Bello's polling unit
PU011, Agassa, Okene LGA, Kogi
APC: 840
PDP: 0
SDP: 0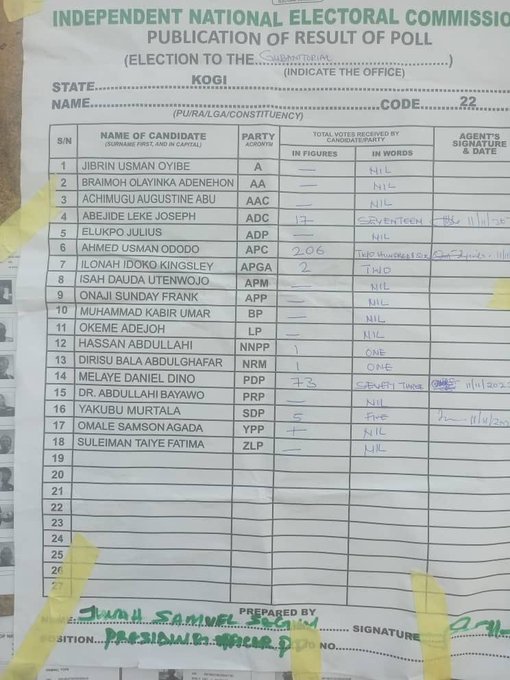 PU: Boutibi Open Space
Ward: Brass Ward I
LGA: Brass, Bayelsa
APC: 10
PDP: 64
NRM: 1
PU: Sambo I Open Space
Ward: Brass Ward I
LGA: Brass, Bayelsa
APC: 77
PDP: 168
NRM: 3
ZLP: 1
Update: Governorship election results submitted to INEC IReV portal so far
1. Imo – 70.98%
2. Bayelsa – 72.73%
3. Kogi – 65.14%
PU: Fire Station Open Space
Ward: Brass Ward II
Lga: Brass, Bayelsa
APC: 32
LP: 1
PDP: 72
APM: 1
PU – Open Space, Okoro Ward – Odokoro
Ward LGA – Ijumu Kogi West Senatorial District .
APC: 206
PDP: 73
SDP: 5
ADC: 17
PU: Twon Kubu Community Hall
Ward: Brass Ward II
LGA: Brass, Bayelsa
APC: 72
PDP: 86
PU: National Teachers Institute (NTI) Twon Brass
Ward: Brass Ward II
Lga: Brass, Bayelsa
APC: 19
LP: 1
PDP: 29
PRP: 1
PU: St. Barnabas Pri. School 1, Twon
Ward: Brass Ward II
Lga: Brass, Bayelsa
APC: 19
PDP: 43
PU: Twon Community Kemmer Open Space
Ward: Brass Ward II
LGA: Brass, Bayelsa
APC: 43
PDP: 65
SDP's Murtala Ajaka wins his PU
Location: Ward Owoli-apa 002, PU 005 , Okotonwa open space, Inikpi street, off Atta of Igala's palace, Kogi state.
SDP 273
APC 8
PDP 1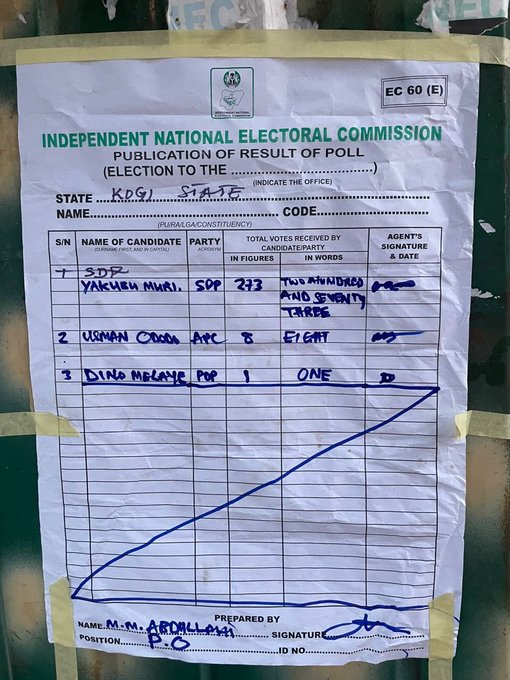 18:00
The candidate of the People's Peoples Democratic Party (PDP) in the Kogi State governorship election, Senator Dino Melaye, has demanded the cancellation of the election process in five Local Government Areas of the State.
The Local governments he mentioned are Okene, Okehi, Adavi, Ajaokuta and Ogori/Mangogo.
16:23
Dino Melaye wins polling unit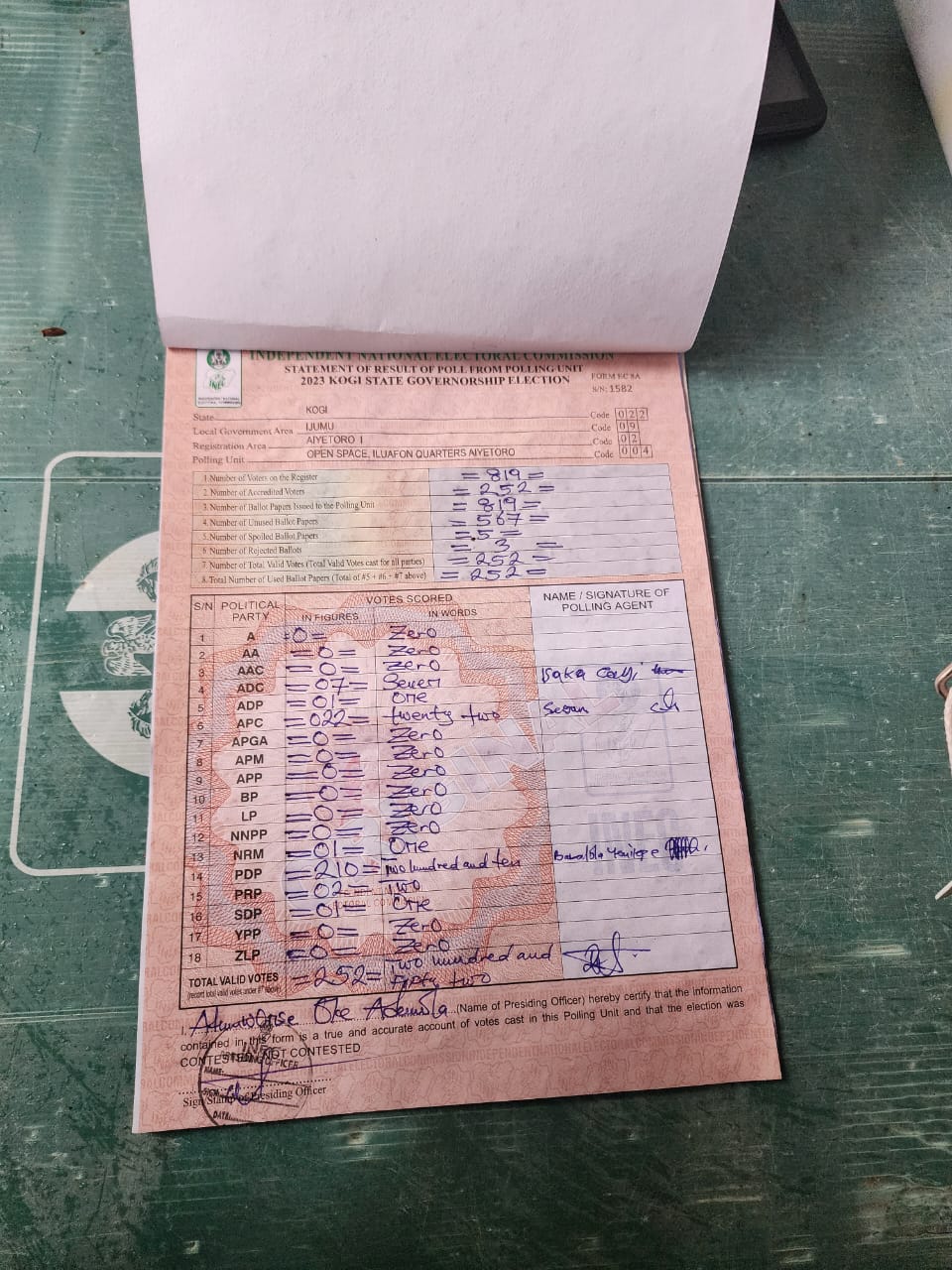 15:56
The incumbent governor of Imo State, Senator Hope Uzodimma has made a clean sweep of all the polling units in Lorji Ward at Aboh Mbaise.
Commissioner for Homeland Security and Vigilante Affairs, Dr. Ugorji Okechukwu Ugorji's immediate Booths, 003 (Eziala Ukwu) and 004 (Eziala Nta) gave APC the highest number of votes in the Ward, with exactly 100 of the voters in each of the two booths choosing to reelect Governor Uzodimma.
12:12
Time: 11am
State: Kogi State
LGA: Ijumu
Ward: Aiyegunle Agbon Quarter
PU: 004
Report: 3 security personnel and 3 party agents are present. Voter turnout is good.
Time: 11:39am
State: Imo state
LGA: Ezinihitte Mbaise
Ward: Umuosisi Obizi
Pu: 010
Reports: Peaceful voting process. However, there are few voters present.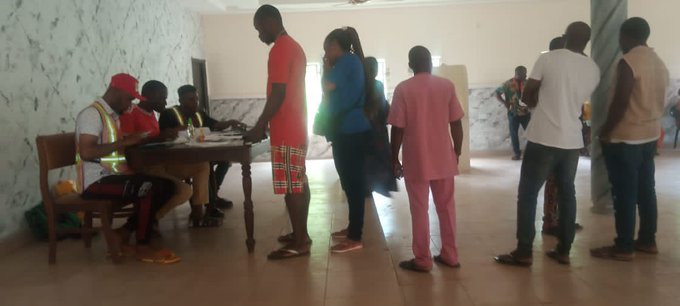 Time: 11:20 am
State: Bayelsa
LGA: Kolokuma/Opokuma
Ward: 4
PU: 001 Ikatebiri Town Hall 1
Report: Accreditation and voting has stopped because the INEC officials want to rest. However, party agents are accusing them of attempted disenfranchisement.
Time: 11:26
State: Imo
LGA: Onuimo
Ward: Umuna Central School
PU: 002
Report: Large turnout of voters. Incidences of vote buying.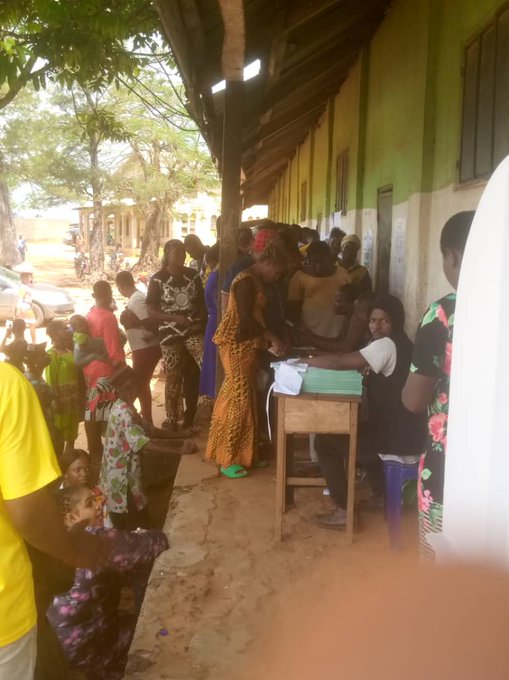 12:00
INEC fails to conduct election in Ogori/Mangogo, Kogi State. At 09:30 INEC officials were seen packing up and leaving the venue of the election. See the video clip posted by PDP governorship candidate, Senator Dino Melaye, below:
Shame!!! This is in Ogori/Mangogo pic.twitter.com/MQ9161QFKr

— Senator Dino Melaye. (SDM) (@_dinomelaye) November 11, 2023
11:45
DPO stops people from voting at Onuimo LGA, Okwelle Wards 1 & 2. The poster said: "The DPO said we must pay him b4 we go and vote."
Watch video clip below:
Nigerian Police. @PoliceNG

Please allow people vote in Imo state. This just sounds outrageous. Be professional. pic.twitter.com/TqkRtmhpdk

— Mo-Mo (@Morris_Monye) November 11, 2023
09:55
Governor Duoye Diri of Bayelsa State also votes without incidence.
09:45
Former President Goodluck Ebele Jonathan votes in Otuoke, Bayelsa State without incidence.
09:44
Time: 9:35am
State: Imo
LGA: Mbaitolu
Ward: Ogbaku.
P.U. 024 (Ezi ogbaku Hall)
Report: Polls yet to commence. Security personnel present.
Time: 9:17 am
State: Kogi
LGA: Kabba/Bunu
Ward: Okebunkun
PU: 001
Information/Report: 4 Security personnel and 5 party agents are present. Voter turnout is good and voting commenced at 9:00 am.
Time: 9:02 am
State: Kogi
LGA: Lokoja
Ward: Oworo
PU: 025 (Gadan Shagari)
Report: INEC officials arrived at 8:37 am and security personnel are present.
09:41
Reports say accreditation going on in the 2023 Bayelsa, Imo, Kogi States governorship election without incidences.
Live updates will follow…
—
(Click here for News Band updates via WhatsApp, or Telegram. For eyewitness accounts/ reports/ articles, write to elstimmy@gmail.com. Follow us on Twitter or Facebook.)