Nigeria's Vice President Yemi Osinbajo has lost his in-law, Hanna Idowu Dideolu Awolowo. The matriarch of Awolowo family, passed on in her home in Ikenne, Ogun State earlier today after a brief illness.
ABOVE PHOTO: Former President Goodluck Ebele Jonathan with Chief (Mrs.) Hannah Dideolu Awolowo tat he Ikenne home of the Awolowos, when Goodluck Jonathan paid a condolence visit to the matriarch of Awo's family over the death of her sone, Evangelist Chief Wole Awolowo in 2013.
The vice president [pics below] is married to the house of Obafemi Awolowo, arguably the greatest Yoruba politician ever and a distinguished public administrator. Oludolapo, his wife and mother of his three children, is a granddaughter of the late sage.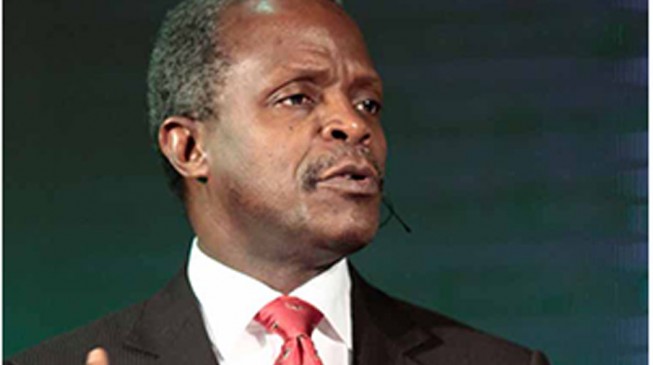 Mrs Awolowo who held the family together and firmly too, since the death of the sage, her husband, Chief Obafemi Awolowo, was expected to clock 100 years in November 25 this year.  
Elombah.com gathered that Family members have been putting together grand arrangement for the celebration of her 100th birthday with programmes meant to attract top government officials including President Muhammadu Buhari and some foreign head of states to Ikenne, in Ogun State.  
Family sources say the late HID Awolowo had done so much for the Awolowo's political dynasty with her ability to wield together a welter of supporters of the sage, first for the purpose of pursuing the unity of Yoruba as well as the progress of Nigeria.  
Although no one was willing to confirm the report on the death of Mrs Awolowo, indications are rife that an arrangement was on for core members of the family to meet first before breaking the news.   Chief (Mrs.) Hannah Idowu Dideolu Awolowo, lived a life blessed with good health and exceptional long life.  
She had at different times been described as a symbol of hope for many Nigerians and the better-half of the legendary, late Nigerian statesman, Chief Obafemi Awolowo.
www.elombah.com