Soludo's remarks: Why Peter Obi must take back Nigeria, restore exchange rate — POSN
The Peter Obi Support Network (POSN) has reacted sharply to the remarks by the Governor of Anambra State, Professor Charles Chukwuma Soludo, saying that it validated reasons for the Labour Party presidential candidate, Mr. Peter Gregory Onwubuasi Obi, to take back Nigeria and restore the exchange rate.
Peter Obi Support Network, stated this in a tweet on its Twitter handle, @ObiSupport, on Friday, November 11.
The group noted that Governor Soludo raised important points that hit at the heart of the Nigerian problem, namely, bad leadership and poor economic management.
POSN, in a banner attached to the tweet, further observed that the investment is doing well in Naira but poorly in Dollar terms because the All Progressives Congress (APC) and its predecessor, the Peoples Democratic Party (PDP) failed to build a strong Naira economy.
"Not to be forgotten is the job creation, tax and services part of the investment; this was a green field project," POSN added.
Presently, a cursory look at the economic outlook of the country shows that "Dollar value of investment is projected to rise when Peter Obi becomes president and improves the exchange rate".
Reason behind the projection is that the former Anambra State Governor has insisted that the only way out of Nigeria's economic woes is to steer her away from consuming to producing country.
That, according to him, will make the country self-sufficient and self-reliant, and make the Dollar less appealing, thereby forcing down the demand of foreign currencies, especially the Dollar.
As indicated in the Governance Index of the banner, the 407,321,264 shares investment of Peter Obi's Anambra Administration in AB InBev's International Breweries Ltd Dollar value of investment dropped by 57% due to bad shape of Naira.
The value of the stock, however, increased by 15% in Naira as at 2022.
The Naira value of the investment also increased by 15% due to stock price gain.
Meanwhile, the Naira, poorly managed by the current administration, lost value and has depreciated by 168% since 2012.
With the current economic imbalance, the exchange rate prospect does not look good for current administration and makes the investment lose dollar value even though it gained value in Naira.
POSN, therefore, posited that instead viewing Soludo's tirade against Peter Obi in a negative prism, it is call to action for all lovers of fortune to invest their money and time and ensure that Obi emerges the next president and bring his economic and investment prowess to bear at national level as he displayed in Anambra State. Read more.
See the banner below: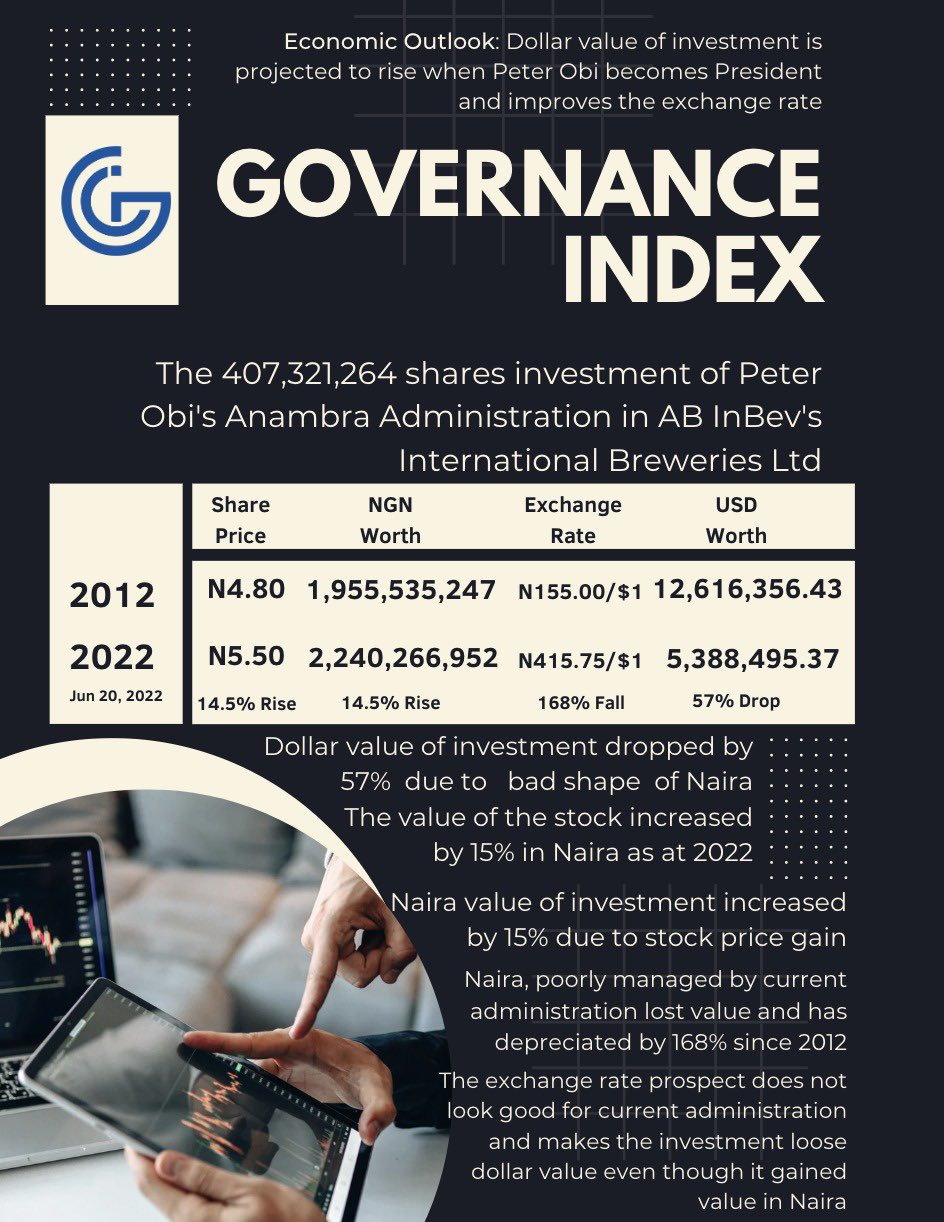 —
(If you would like to receive 
CURRENT NEWS
 updates from 
News Band
 on WhatsApp, 
join here
; for Telegram, 
join here
. If the group is full, kindly send WhatsApp/Telegram message to 
+234 905 038 2526
. You can also send eyewitness accounts/reports/articles to 
elstimmy@gmail.com
. F
ollow us on twitter @
News Band
; like our Facebook page: 
News Band
.)