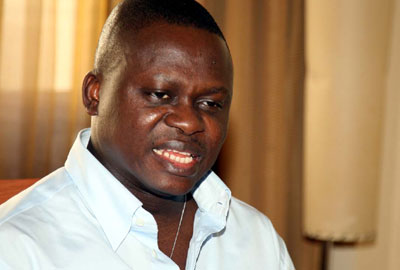 The Peoples Democratic Party (PDP) in Bayelsa State has revealed how Timi Alaibe [pictured above] donated N10 billion towards the realisation of the aborted third
term plot of ex-President Olusegun Obasanjo, when he was Managing Director of Niger Delta Development Commission (NDDC).
The party also had asked the governorship aspirant of All Progressives Congress (APC), Alaibe, to forget his ambition because he is "a desperate power monger" who lacks the vision to govern the state.  
The PDP State Secretary, Godspower Keku, in a statement in Yenagoa, said Alaibe's antecedents did not recommend him as someone who could be a good governor nor did he have anything substantive to offer. 
The party also said among the other APC aspirants, the former NNDC boss has the biggest political baggage which it attributed to what it described as the "level of corruption and gross mismanagement" under him at NNDC. 
Keku said that it was because of Alaibe's lack of "relevant skills and leadership acumen", nothing significant is now remembered as his achievements as the former Managing Director of NDDC responsible for infrastructural development in the Niger Delta area, among others. 
He said, "It is a shame that somebody like Alaibe is coming out to say he wants to contest for governor of the state. 
"The question to ask him is: what is he coming to offer? What was his antecedent at NDDC? In his years as the managing director of NDDC what did he do to better the lot of Bayelsans or the state in spite of all the opportunities available to him? 
"Is it not true that instead of helping his own people he chose to empower his friends from the North and South West? 
"Now is it not important to ask him if he actually loves Bayelsans; he should account for all the billions of naira budgeted and released for the construction of roads and water projects for Bayelsa state. 
"Where are the roads and water projects in the state and what happened to the money so budgeted and released for this purpose?  
"Who is Alaibe fooling? Surely, Bayelsans don't trust him. His tenure at NDDC was a complete disaster".
Keku who accused the governorship aspirant of "having donated N10 billion towards former President Olusegun Obasanjo alleged third term plot", said that Alaibe had tried to contest for governor at three different times and on each occasion dropped out of the race after allegedly collecting money or appointment with the claim that he was "told to step down".  
This trait, Keku said, did not recommend Alaibe as principled person or one with leader you can trust.                           
He also claimed that the APC aspirant is a "use and dump" politician, saying after his personal benefits on each occasion he tried to run for governor, he subsequently forgot his supporters. 
"Is that a man that can be trusted?  Is that the kind of leader Bayelsa needs?  A leader who will mortgage the state and interests of the people for a pot of porridge?" He asked.  
—

© Copyright 2015 www.elombah.com
Send your reports/articles/eyewitness accounts to publisher@elombah.com
Follow us on twitter handle @Elombah; Like our Facebook page: "Elombah.com"