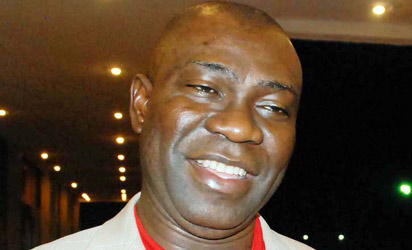 [Deputy Senate President, Ike Ekweremadu]
Deputy Senate President, Senator Ike Ekweremadu on Thursday described the Nnamdi Azikiwe international Airport in Abuja as the worst in Africa.
Ekweremadu who expressed dissatisfaction with the state of Airport in Nigeria disclosed his recent experiences had shown that even the Abuja Airport remain the worst of the airports he had seen in Africa.
He said, "I just returned from Kenya and had the opportunity to touch on three international airports, Kenya International Airport, Lagos International Airport and Nnamdi Azikiwe International Airport, I feel sad to say that among all, Abuja Airport is the worst.
"I feel something has to be done"
He expressed support for the motion which according to him would assist Nigeria to overcome the challenges the aviation industry has been having in the event that the ad hoc committee did a good job.
Meanwhile, An Ad hoc Committee raised by the Senate on Thursday is now to seek avenue for a total overhauling of the Nigeria's Aviation sector with a view to addressing its teething problem, while making recommendations for its repositioning.
The Committee as set up will, against this background, carry a comprehensive investigations into the circumstances and problems militating against the growth of the aviation industry in Nigeria for the purpose of addressing its immediate and remote challenges.
The Senate took the decision during its plenary after unanimously adopting a motion sponsored by Senator Bala Ibn Na'Alla on the unstable position of the Nigerian aviation industry and the need to revive it.
While presenting the motion, Na'Alla said the near crisis situation of the aviation sector in Nigeria should be of paramount concern to all, more so as domestic airlines have started requesting for bailout.
—

© Copyright 2015 www.elombah.com
Send your reports/articles/eyewitness accounts to publisher@elombah.com
Follow us on twitter handle @Elombah; Like our Facebook page: "Elombah.com"