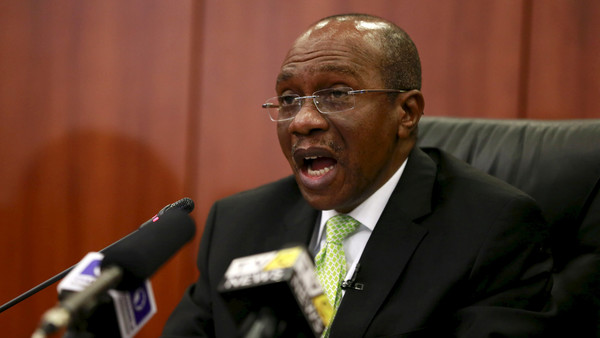 [CBN Governor, Godwin Emefiele]
The Nigerian government has resorted to chopping down trees lining the streets of its capital to thwart black market money changers, one of a range of unorthodox
measures it is deploying to defend its weakening currency, according to a Financial Times report. 
On an August morning in Abuja, a labourer who said he was hired by the city government cut branches from a towering tree with a chainsaw. Nearby other workers hacked away at smaller trees with machetes.
Asked what they were doing, one, who did not want his name published, told a reporter: "The government does not want the trees because people are doing illegal work under them".
The man was referring to money changers from the north of the country who rest under the shade of the trees and sell US dollars, British pounds, and even Saudi riyals to customers hungry for hard currency.
Another worker who gave his name as Alex said: "People change dollars on the road here and it's not supposed to be like that. People are supposed to go to the banks to do transactions".
But a series of central bank decrees issued this summer has instead increasingly restricted how Nigerians can use their banks, seemingly encouraging black market activity. For example, money changers in Abuja say the new rule barring Nigerians from depositing hard currency into banks only boosts unofficial trade, said the Financial Times.
The naira, still reeling from an oil price of less than $50 a barrel and political uncertainty in the run-up to this year's elections, has lost a fifth of its value in the past year and has been devalued twice. In import-dependent Nigeria, demand for dollars remains high yet the fall in the price of crude has cut the flow of currency as income from oil exports has dwindled.
The central bank's new controls, combined with its contentious move in June to restrict imports of critical goods such as rice and rubber, has hit foreign investor confidence in the administration of new president Muhammadu Buhari, who remains without a cabinet more than two months since his inauguration.
On August 11 the central bank lowered the ATM withdrawal limit, cutting the maximum naira limit by more than half, to 60,000 naira ($301) a day. Those with "domiciliary accounts" which are denominated in foreign currency can now take out only $300 a day. Earlier this month, the central bank banned Nigerians from depositing US dollars into their domiciliary accounts, angering people who had children at school abroad and had to pay school fees in foreign currency.
"Anything to strengthen the naira is important, but personally I need to transfer money to my family abroad, that's why I opened a domiciliary account," said a man in a suit after withdrawing the maximum daily amount of naira from a cash machine in the wealthy district of Ikoyi in Lagos. He did not want his name to be published. "In Nigeria we need these accounts because many of us work in foreign currency."
At another row of cash machines at a nearby bank, 36-year-old car importer Babatunde Gbanga said the "liquidity challenges" and the new restrictions were hurting his business because he relied on being able to send and receive foreign currency from abroad.
The naira was in a "crisis situation" partly because of high demand for dollars, said Kunle Ezun, treasury researcher for Ecobank in Lagos. "In trying to control the FX market, the central bank is starving the money market of liquidity."
Bank governor Godwin Emefiele has defended his policies, arguing that the measures are intended to stop speculation, decrease illicit financial flows and defend the naira. Mr Emefiele told the Financial Times this month he thought the naira was still appropriately priced, despite the spread between official and black market rates, and said his policies would help prepare Nigeria for a possible interest rate rise by the US Federal Reserve later this year.
Still, many economists disagree. Given that oil prices will remain low, the central bank's naira policy raises the risk of more controls and even import bans, all of which could undermine growth, said Yvonne Mhango, Africa economist at Renaissance Capital.
ABOVE PHOTO: Nigeria's Central Bank governor Godwin Emefiele