FACT-CHECK: Document shows Tinubu's forfeiture arose from criminal activity
Contrary to wild speculations and arguments over the forfeiture order slammed on the All Progressives Congress (APC) presidential candidate, Alhaji Bola Ahmed Tinubu, by the United States government in 1993, documents at the disposal of News Band shows that the forfeiture order arose from criminal activity.
While speaking on Channels Television late Wednesday, the spokesman of the Tinubu/APC Presidential Campaign Council, Festus Keyamo, SAN, had defend the indictment of Tinubu in drug trafficking and the subsequent forfeiture of $460,000 in the United States.
According to Keyamo, Tinubu was not treasurer of a narcotics gang, rather, he only shared a block of flat with drug peddlers about 30 years ago.
He also claimed that the forfeiture order did not emanate from any criminal activity which, according to him, explains why he was never "fined or jailed".
Others even claimed that Tinubu was not mentioned in the documents.
However, in the documents released by the United States government and obtained by News Band, it was clearly stated that the case was instituted against Tinubu because criminal activity gave rise to the forfeiture.
The case, instituted by the United States of America had the following defendants:
Funds in account 263226700 held by First Heritage Bank in the name of BOLA TINUBU.
Funds in accounts 339283134, 339283396, 6450279566, 00400220, 39936404, 39936383 held by Citibank, N.A. in the name of BOLA TINUBU or Compass Finance & Investment Co.
Funds in account 52050-89451952, 52050-89451953 held by Citibank International in the name of BOLA TINUBU.
See the attached document below: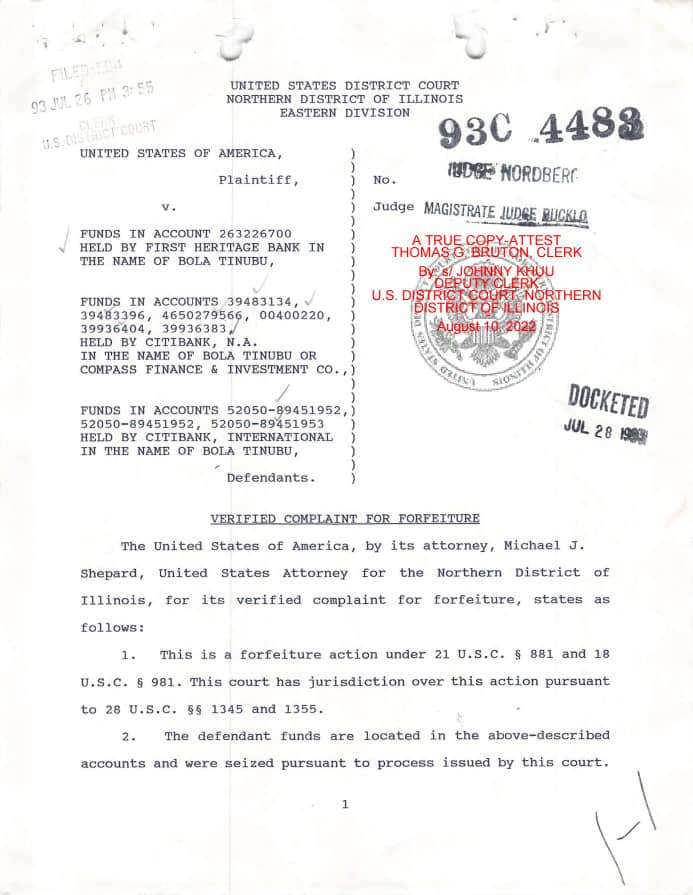 Paragraph two of the document as captured above and below, confirming that criminal activity gave rise to the forfeiture, stated:
"The defendant funds are located in the above-described accounts and were seized pursuant to process issued by this court.
"This court has venue in this matter pursuant to 28 U.S.C. § 1355 because criminal activity giving rise to this forfeiture action occurred in this district." (Emphasis ours)
Paragraph four also noted that "beginning as early as 1988, Adegboyega Mueez Akande, [Tinubu's accomplice,] with others, operated an organization which distributed white heroin, a controlled substance under Titled 21 0f the United States Code".
See the attached document below: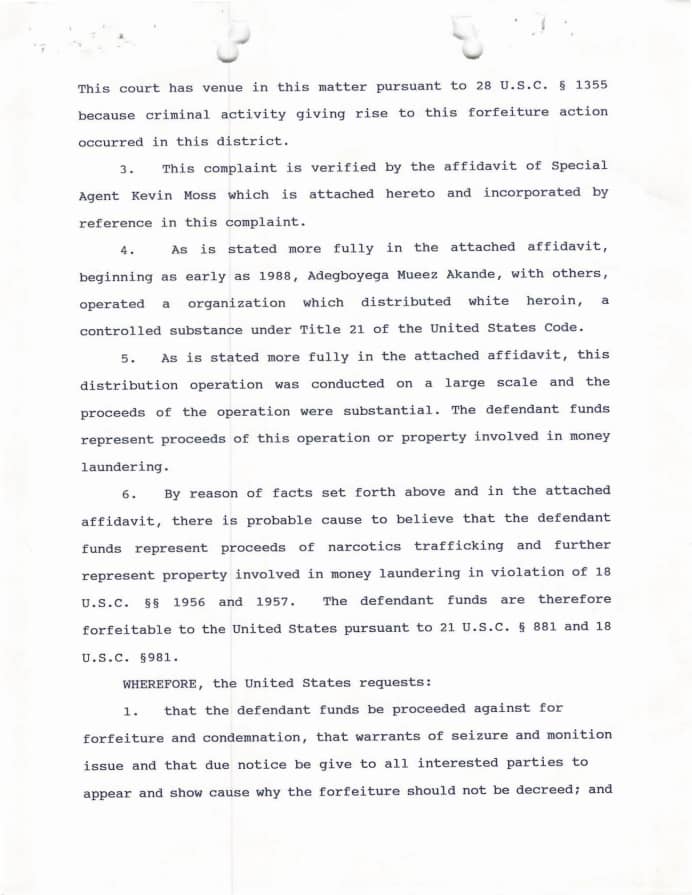 Presently, there are calls from some quarters that Tinubu be disqualified from participating in the presidential election coming up in February 2023 over his apparent involvement in criminal activities whilst still living in the United States.
News Band has, over the years consistently published materials linking Tinubu with criminal activities in the United States, namely drug trafficking and money laundering.
This medium reported on December 26, 2020, about documents linking the Jagaban to trafficking of prohibited drugs, specifically Heroin and exposed him as a former heroin trafficker.
On June 27, 2022, this medium also published a video and document showing the All Progressives Congress (APC) candidate for the presidential election's drug trafficking case while in the United States of America.
Later on July 2, 2022, we published more documents revealing how the former Lagos State Governor was convicted of drug trafficking in the United States of America.
In the matter filed by the United States of America, plaintiff, against Tinubu, the Northern District Court of Illinois listed three accounts belonging to the accused, holding amounts in excess of $1.4 million, and issued a forfeiture order of the above-described sums in the said accounts.
Meanwhile, according to the court documents, Tinubu's take home pay as a staff of Mobile Oil Nigeria Ltd., was $2,400 per month.
Another fact finder about Tinubu's drug proceeds forfeiture was a treatise written by Reno Omokri and published by this medium.
Omokri said in part:
"The indictment upon which Bola Tinubu was charged showed that he (Tinubu) was an active associate of the drug cartel, and that he was a known associate of Mueez Akande, fingered as the head of the cartel, and had shared living accommodation with him."
He also wrote:
"The fact of the matter is that the charges brought against Tinubu by the FBI are very clear, detailed, and unambiguous. In the course of a sting operation, one Abiodun Agbele sold white heroin to an undercover FBI agent on November 28, 1990.

"Upon his arrest, he named one Mueez Akande as his drug boss. Upon investigation, it was revealed that funds from Mr. Akande's white heroin drug cartel had found its way into Mr. Tinubu's account and that they could not be justified by his legitimate income, then about $2400 a month.

"That Bola Tinubu was found to have shared accommodation with the said Mr. Akande, who had been his known associate for years. And that rather than fight the charges of laundering money for a drug cartel, Bola Tinubu entered into a plea agreement with the US Federal Government to forfeit $460,000 in drug money to the government.

"Those are the undeniable FACTS!"
He added:
"The fact remains that Bola Tinubu is a known drug lord and by accepting a plea bargain, in which he voluntarily agreed to forfeit his assets, rather than go to trial, he is seen in the eyes of the law to have admitted to being a drug lord." Read more.
—
(If you would like to receive 
CURRENT NEWS
 updates from 
News Band
 on WhatsApp, 
join here
; for Telegram, 
join here
. If the group is full, kindly send WhatsApp/Telegram message to 
+234 905 038 2526
. You can also send eyewitness accounts/reports/articles to 
elstimmy@gmail.com
. F
ollow us on twitter @
News Band
; like our Facebook page: 
News Band
.)