The Anambra State governor of the All Progressives Grand Alliance (APGA), Chief Willie Obiano, is currently engaged in high-wire talks to jump boat and quit his party
for the All Progressive Congress (APC) reports LEADERSHIP.
[Cover image: Chief Willie Obiano]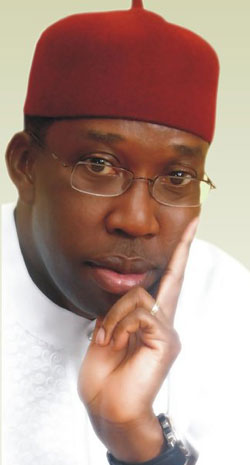 Also, two governors of the Peoples Democratic Party (PDP) Patrick Ifeanyi Okowa ( Delta) and Ibrahim Dankwambo (Gombe) are mulling joining the ruling APC.
First time governor, Obiano who has fallen out with his erstwhile godfather and former governor of Anambra State, Peter Obi, according to Leadership source, is in deep discussions with Governor Rochas Okorocha of Imo State and Senator Chris Ngige on possible movement to the APC. 
His decision to opt for a change in party has become necessary as Obi has had a firm control of the APGA structure in the state until his movement to the Peoples Democratic Party [PDP]. 
Obi's movement, however, depleted the support Base of APGA in the state thereby exposing Obiano to the PDP in the state.
 Ifeanyi Okowa Delta state governor
Though the governors have largely kept their discussions secret, our source said it is just a matter of time before they finally declared their intentions to the party.
While Dankwambo is already said to be in contact with top APC chieftains, Okowa's entry is being smoothened by a former governor of the state. If all goes as planned, Okowa would recontest under the APC come 2019. Already Governor Adams Oshiomhole is said to be playing some salient role in this direction.
A top chieftain of the APC who spoke to LEADERSHIP Weekend on condition of anonymity said the three governors have already concluded their plans and are just waiting for their various election tribunals to uphold their elections.
Dankwambo who defied the 'Buhari Tsunami' to win a second term in office in Gombe State is said to be weighing his option for 2019 as he may not have his luck shine twice. He may wish to come to the Senate.
Governor Ibrahim Dankwambo
 LEADERSHIP source say he is being encouraged by powerful APC leaders who are displeased with former governor, Senator Danjuma Goje's role so far especially in the recent leadership squabble which rocked the National Assembly.
If Dankwambo moves to the APC, he would be handed over the machinery of the party and effectively neutralise the former governor's hold on the party.
It would be recalled that Dankwambo who was appointed a member of the PDP e-registration committee by his party boycotted the committee's inauguration recently.
An aide of the governor, Junaidu Us man, when contacted described the report as part of rumours making the round, stating that the governor had never mentioned his intention to leave the PDP to anyone as he was more concerned with providing dividends of democracy to the people of Gombe State.
"My boss has never told us of this. This is not a priority for him as he is bothered with issues of governance in the state. He has initiated tremendous policies and only concerned with delivering on his campaign promises and nothing more at the moment", Usman said.
[Courtesy: Leadership Newspaper]