What an irrational political pandering! Some vile, disgusting nuances filtering the political stratosphere are that the  heist invasion of the Akwa Ibom State
Government house by the ill-bred DSS – Daura Secret Service you may call them Nigeria's Department of Secret Service was geared toward clawing and whisking former Governor Godswill Akpabio for quizzing based on monumental fraud and money laundering. What a lame excuse? 
[Image: Governor of Ibom State, Emmanuel udom]
Akwa Ibom State house and the Senate chamber which of the proximity could have been more favorable in terms of geographical contiguity to the DSS? As a serving senator, wouldn't it be more convenient to invite Akpabio from the Hallowed Chamber in Abuja and grill him? Why do you have to spend more than an hour flying on Arik Airlines from the Nnamdi Azikiwe International Airport Abuja only to launder your battered image in the name of fighting corruption?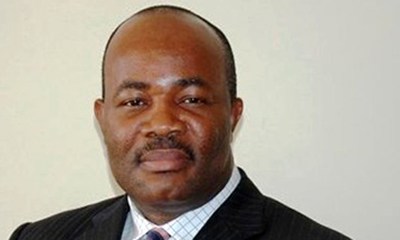 We are tired of hearing and sipping the sound bites of corruption! Buhari should stop hiding under the vagaries of corruption hoax only insult the people's intelligence? How can you send criminals in the guise of fighting phantom corruption to embarrass, denigrate and insult the people of Akwa Ibom simply because it's governed by a PDP led administration? Wasn't Mr. Udom Emmanuel given a certificate by INEC as the duly elected governor of Akwa Ibom State? 
Former Governor Godswill Akpabio
The information in various quarters of the media inferred that the move to invade the AKS government house was a shrewd but coward strategy by the APC weakling sound biters which averred that "since there's no election in Akwa Ibom," there'll be a re-run. In order garner fickle supports, there's the need to ruffle Udom's feather, distract and destabilize him and his team. To them, this vain cowardice to make the teaming supporters of Udom quake, cower and change minds to the Umana O. Umana, with view that Baba Buhari is solidly behind the egomaniac Umana. 
If there's any palpable quandary as to the popularity and acceptability of Udom, the sittings in Abuja by the election tribunal is already settling that. Let us be reminded that Barr Onofiok Luke and Mr. Usoro Akpanuso were adjudged winners by the Election Tribunal in a state where "there were no elections, "according to Udom's opponents, the vicious change chanters in APC attire. Though I've no affiliation to any political party, a good conscience ridden individual cannot sit and watch how injustice is being meted out on his beloved state. 
Nobody should dare to blindfold me with the charade mantra of change. If you want to talk change, the Peacock Paint industry in Etinan is an insignia of change. The Itu Led industry is diadem of change, the move to dualize Eket road is eagle's eye of fundamental change. The truth is that Buhari might cause change but not the former PDP members who want to hide under any guise to defraud Akwa Ibom of their right. 
Another impeccable truth is that there's an existing covenant by the people of the oil rich Akwa Ibom to honor! That covenant is called Power Rotation Covenant. Any other businesses not in-line with this rotation is tantamount to fraud, daylight robbery and boldfaced injustice.
Akwa State Governor, Udom Emmanuel
Whoever feels he wants power of the Hilltop Mansion should not hide under snaky mantra of change. After the people of Akwa Ibom came together and handed power to Uyo Senatorial District in hands the Obong Victor Adiaha Attah, and to Chief Godswill Akpabio of Ikot Ekpene Senatorial District, why wouldn't we honor the sacred covenant and hand over mantle of leadership to Eket Senatorial District? Are we mad enough not to see the glaring truth? Or has greed so overshadow our collective sense of reasoning?
For those who're preaching their hate theology in an attempt to evict Udom, it will not work. Some of you couldn't even cough when Akpabio was in the helms of affairs but now running your mouth like the Indian Ocean Tsunami because you want political power at all costs. I say you're greedy, egocentric, narcissistic and egotistical criminals. 
For what I know, I was an ardent supporter of Akpabio in the first three years of his government but when things started falling apart, I did not fail to vent my anger and to the letter. Now that Udom is in charge, I will join well-meaning Akwa Ibom people and beyond to give my whole support to him as long as he does not derail. Any moment he begins to falter, I will not fall to call his bluff. Again for now, nothing do you, Udom. That's my stand. If you're in doubts, know now that until Udom commits unpardonable crime, I will continue to soar high with him like Eagles 
APC desperado, Umana Umana
As for the shameless DSS, we are yet to see the publication of your criminal raid in Akwa Ibom State house. If there were substantial booty recovered, the whole cyberspace would be dented with it.  Because your raid is a rape on democracy, it curries no support of any rational thinking individuals; this is why you should cover your ugly faces in shame until you go and raid an APC controlled government house. 
Less I forget, for all the political jobbers who concealed their true colors under the human right tent or activism, you have been uncovered for long and your self-esteem dwindled. Of course, there's God!! But, I will make further comment in that regard in my next exegesis. Don't shift the dial.
Asu Nyong is a socio-political and contemporary analyst.