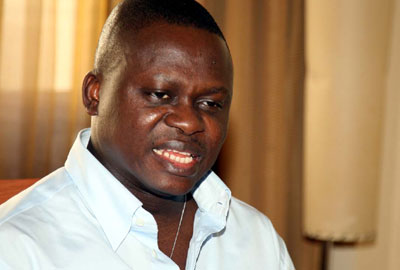 *Says name-dropping doesn't translate to delegates*
A chieftain of the All Progressives Congress (APC) in Bayelsa State and close aide of its leader
and ex-governor, Timipre Sylva, has stated that a former chairman of Niger-Delta Development Commission (NDDC), Timi Alaibe, can never become the party's flag-bearer in the forthcoming elections despite dropping the names of some senior citizens.
[Image: Timi Alaibe]
Alaibe was said to have been using the names of President Muhammadu Buhari and ex-President Olusegun Obasanjo to raise funds in a manner that embarrassed the two leaders.
He was also said to have boasted that not even Buhari will stop him from clinching the APC ticket because of the support from the national leader of the party and former governor of Lagos State, Asiwaju Bola Tinubu.
Alaibe's aide had on the social media boasted that "Alaibe will most certainly emerge as APC candidate in the forthcoming primaries because he (Alaibe) has the support and backing of APC national leadership, particularly with the solid support of Asiwaju Bola Tinubu".
But Sylva's aide, Sokari James, told journalists on Wednesday in Yenagoa that the former Managing Director of the NDDC will not get the APC governorship ticket in the state.
"There is no way the former NDDC Managing Director, Ndutimi Alaibe, will get the party's ticket in the APC primaries scheduled for the second week of September. 
His various comments have proved that he can't make it.
"Alaibe is a disappointment because he resorted to name dropping and that will not translate to having delegates or winning at the primaries. The constant resort to name-dropping by Alaibe does not translate to number of delegates on ground that will vote for him in the primaries.
"Timipre Sylva, as leader of APC in Bayelsa State, has control of the party structures and he is firmly in charge of all the delegates that will vote in the primaries. Our findings have suggested that Sylva will likely pick the APC governorship ticket and that is the belief of political observers."
James was categorical that former governor, Timipre Sylva was the candidate to beat, stressing that the former governor's grassroots support was unrivalled in the state. 
He further said that the clamour for Sylva's choice was because of the importance APC attached to the December 5 election "given the enormous clout and power of the incumbent."
According to him, Alaibe had ceased to be a popular politician among the grassroots and would be a mistake fielding him as candidate.
He said, "We cannot, under any guise, use Alaibe as our candidate. We cannot afford to surrender our party's ticket to just anybody. Alaibe is no more a grassroots politician. People keep making reference to the past when he made attempt to fly the flag of the Labour Party (LP). 
"That was then when he could spend so freely as MD of NDDC; but not anymore and that's why he's busy dropping names here and there. He's broke and we have to face the reality that Alaibe is now a spent force and why most of his supporters have also deserted him."
A public affairs commentator, Dr. Kemowei Franklin said, "The battle as to who emerges the APC governorship candidate is now a game of wits between the camps of Sylva and Alaibe. It's a dagger drawn affair and will be interesting in the weeks ahead."
—

© Copyright 2015 www.elombah.com
Send your reports/articles/eyewitness accounts to publisher@elombah.com
Follow us on twitter handle @Elombah; Like our Facebook page: "Elombah.com"