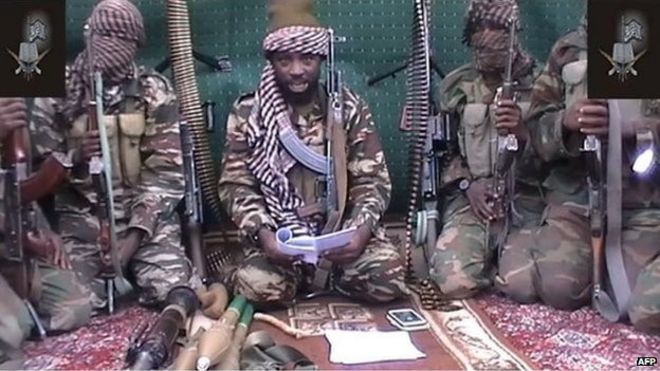 (Reuters) – At least six people have been killed during a raid by Boko Haram militants outside Nigeria's northeastern city Maiduguri in Borno state, a police officer said on Wednesday.
A Cameroonian soldier has also died during a cross-border incursion from neighbouring Nigeria by Boko Haram militants, a senior Cameroonian military source said.
In the fighting near Maiduguri, the militants entered Bale Mamman village to rustle livestock on Tuesday evening, police chief Aderemi Opadokun said. "Before the arrival of troops, six persons were shot dead," he said.
A military and a vigilante source said eight people had been killed and four women abducted during fighting that lasted about three hours.
Also on Wednesday, a senior Cameroonian military source said Boko Haram had killed a soldier from Cameroon in a cross-border incursion from Nigeria.
The battle took place in Achigachia in Cameroon's Far North region on Tuesday, said the source, who estimated the attackers may have lost around 20 men in the firefight.
"They attacked on two fronts at around 2.30 a.m. (0130 GMT)," said the source. "During the battle we lost a chief sergeant. Also, a lieutenant was wounded in the arm,"
Chad, Cameroon, Nigeria and Niger launched a regional offensive this year that forced Boko Haram from several towns it held in Borno state, the birthplace of the jihadi group and a frequent target of raids and suicide bombers.
But it has killed more than 600 people in a series of raids and bombings since President Muhammadu Buhari took office on May 29, vowing to crush the jihadi group. It has also stepped up attacks in neighbouring countries.
Bale Mamman is a Nigerian village just southeast of Maiduguri, a city of 2 million people. Boko Haram has been trying to carve out an Islamist state adhering to strict sharia law since 2009 in the northeast of the country.
It pledged allegiance this year to Islamic State, which controls large areas of Syria and Iraq.
Chad's President Idriss Deby said on Tuesday the regional offensive had crushed Boko Haram and it would be finished as a fighting force by the end of the year.
"We have decapitated Boko Haram. Our defence and security forces have recaptured their arms, which did so much damage," he said at a celebration to mark 55 years of Chad's independence.
Boko Haram leader Abubakar Shekau is wounded and has been replaced as leader by Mahamoud Daoud, he said, adding Shekau went to Maiduguri, capital of Borno state, after he was wounded.
Nigeria's defence spokesman said it was not concerned with who led Boko Haram. "We are working (with Chad and others) towards a common end to ensure that we stamp out the terrorists and their arsenal," the spokesman said.