Data from the Ashley Madison adultery website breach has flooded on to the web, a dating website for married people.
 leaving thousands of people fretting about the potential consequences. 
The online dating agency, which specialises in affairs, was hacked by a group calling itself The Impact Team. The hackers said they would publish what they claimed was a database of 37 million members. Several big names have supposedly been "outed" by the press after the release of personal information stolen from the dating website, which is aimed at married people.
The list includes names of police officers, government officials, members of the military, diplomats and senior politicians. No such individuals have so far publicly admitted using Ashley Madison. And generally speaking, there is huge potential for damaging people's reputations.
A UK MP whose email address was among the millions released after a data hack on adultery website Ashley Madison said it was "harvested" by hackers. Michelle Thomson, who represents the Edinburgh West constituency, said she had never contacted the website.
There are questions about how – or whether – Ashley Madison will recover from the incident, which has the potential to be one of the messiest and most legally troublesome data dumps in history.
The website, which uses the catchphrase "Life is short. Have an affair", was set up for married individuals seeking partners for affairs.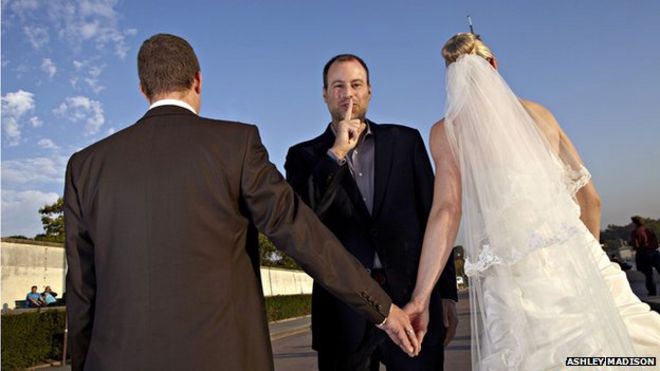 There are already some who have tried to tie names and email addresses in the database to real individuals. One particularly widely reported incident concerns two Australian DJs who, while interviewing a concerned listener live on air, revealed to her that details identifying her husband were present in the database. The woman responded in shock, saying: "Are you freaking kidding me?" Shortly afterwards, she hung up.
One of the hosts admitted: "I don't know if we should have done that. That hasn't left me with a good feeling."
It's worth noting that people were able to sign up to Ashley Madison using false names and email address – no email account verification was required. One Scottish National Party (SNP) MP, Michelle Thomson, whose email address was among the millions included in the dump, has said the address was harvested by hackers and that she never contacted the website herself. There are also a number of obviously fake details – including an email address for FBI agent Fox Mulder, a character on TV show, The X-Files.
One allegation hitting the headlines is that anti-divorce activist and US TV personality Josh Duggar had an account, though he has yet to comment on the claim. Further to this, a wide range of public figures and government employees' names and email addresses have been found in the data, but again it's not clear whether this is indicative of actual use of the site. 
A Sydney woman who suspected her husband was having an affair was told on live radio that her spouse was registered with the cheating website Ashley Madison, after hackers leaked the details of millions of accounts online overnight.
The woman, whose voice began shaking when she was told the news, labelled the website "disgusting" before hanging up.
Breakfast presenters Ryan "Fitzy" Fitzgerald and Michael "Wippa" Wipfli had urged listeners to phone in to their Nova radio show Fitzy and Wippa if they suspected their partners had been unfaithful.
The woman, who was referred to as Jo from Blacktown, phoned in to the station to say she became suspicious of her husband when his working hours changed so that he left their home early in the morning and arrived home late at night.  
"When that little thing came on the news about the Ashley Madison hack, he sort of went a bit funny," Jo said on air. "I looked at him and said 'What's up?' and he said 'Nothing.' "I asked him straight out. He said 'Don't be stupid. We're married, we've got two kids.' "
Jo said her husband had been "snippy", kept his phone extremely close to him, and could not account for some purchases he had made. She supplied her husband's details to Fitzy and Wippa, who checked whether he was listed in the hacked Ashley Madison information.
"I feel like we're on Jerry Springer, man," Fitzy said.
"We're putting him into this website right now and his details have revealed … that he is actually on the website, Jo." After a few seconds of silence, Jo responded:
"Are you serious?"
Fitzy: "Yeah, I'm sorry."
Jo: "Are you freaking kidding me?"
Fitzy: "Yeah, no, no."
Her voice breaking, Jo then lashed out at both the website and an earlier female caller to the station, who had said she was a single woman who used the Ashley Madison site to meet single men.
Jo said: "These websites are disgusting, and that girl who called before, she should be ashamed of herself."
She then hung up.
Fitzy and Wippa sounded shocked and uncomfortable after the call ended. 
Did Ashley Madison users take steps to protect themselves from this?  
Besides using fake names and email addresses, some users had in the past paid Ashley Madison to remove their data. Previously, Ashley Madison's chief executive told Ars Technica that data would be deleted "permanently". However, multiple reports have now alleged that data which users paid £15 ($23) to be removed actually remained in the database that has now been made public online.
Mr Watts said users might, in theory, be able to make a claim against the company that there had been a breach of contract. But he said such a move would be complicated, costly, and risk further exposure.  
What about the legal consequences for married couples?  
If someone suspected their spouse of adultery or infidelity, finding identifying details within the Ashley Madison details could be grounds for a divorce case, according to Marilyn Stowe, a prominent British divorce lawyer.
Evidence that a husband or wife had used the site could be considered "unreasonable behaviour" she explained.  "Even if you're not able to prove adultery, which is one basis for an immediate divorce, unreasonable behaviour is another one," she said.