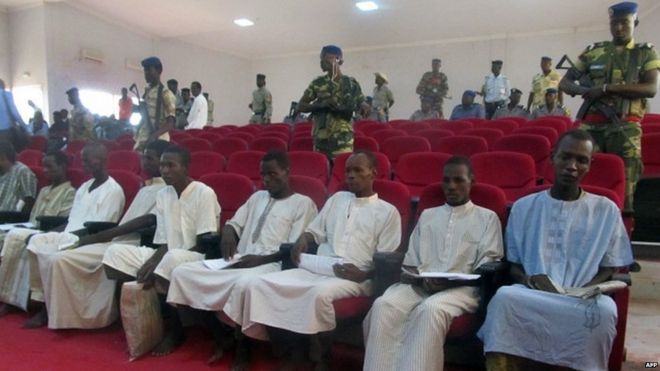 A court in Chad has sentenced 10 Islamist militants to death, including an accused ringleader who said he helped organize suicide bombings in the nation's capital that killed 67 people this year.
The attacks were the first by the Nigerian-based group in Chad, which hosts the headquarters of a regional force set up to fight the militants. The June attacks were followed by a blast at a market in the capital in July, which killed 15 people.
Mahamat Mustapha, who stood trial with the others on charges including conspiracy to murder and illegal arms possession, made the confession in a court hearing in the capital, N'Djamena, where the series of bombings in June and July also injured more than 180 people. The court convicted the suspects and ordered the death penalty, according to a national television broadcast on Friday.
The trial of the alleged Boko Haram members, all with multiple identity cards, is the first of its kind in Chad. The oil-producing nation has joined Niger and Cameroon as part of a multinational force to counter the growing threat of Boko Haram in the region.
The group's home ground is northeastern Nigeria, where it has killed thousands of people in a six-year campaign to establish Shariah, or Islamic law.
In July, Chad reintroduced the death penalty for acts of terror. Opposition and civil liberties groups have criticised the new anti-terror legislation, saying it could be used to curb civil rights. Chad also banned people from wearing the full-face veil following the bombings.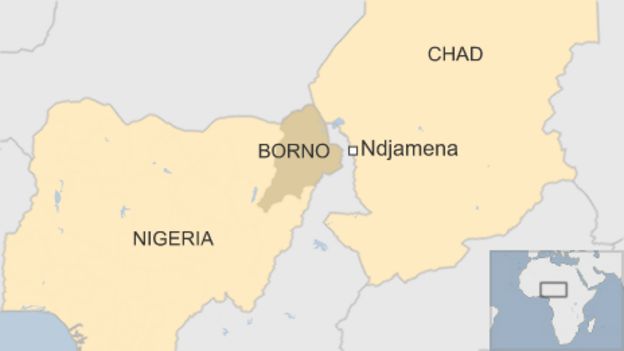 Map of Chad and Nigeria
The men were found guilty of charges including criminal conspiracy, killings, wilful destruction with explosives, fraud, illegal possessions of arms and ammunition, and using psychotropic substances, according to chief prosecutor Bruno Mahouli Louapambe, quoted in AFP news agency.
The trial had been due to last eight days, but "due to security reasons it was speeded up and moved on Thursday to an undisclosed secret location," Elombah.com learnt.
Among those convicted was Mahamat Mustapha, aka Bana Fanaye, the man described as the "mastermind" of the attack by Chad's Interior Minister Abderahim Bireme Hamid.
Boko Haram had previously threatened to attack Chad, after it sent troops to help Nigeria recapture territory from the militant group, mostly in Borno state.
Chad has been instrumental in helping Nigeria retake most of the areas Boko Haram had seized.
The jihadists, who want to create their own Islamic caliphate in Nigeria, have killed thousands and forced millions to flee their homes in the country's north-east Nigeria since 2009.